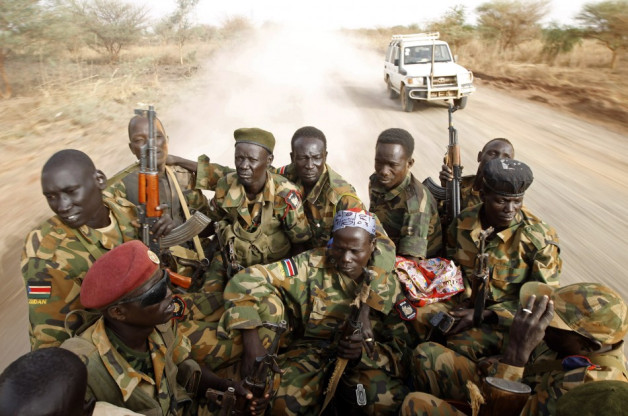 The South Sudanese army has shot down a UN peacekeeping helicopter on a reconnaissance mission over the state of Jonglei.
All four crew members aboard were killed in the incident, which the army says was a mistake.
The UN Security Council and Secretary General Ban ki-Moon have reacted strongly to the shooting.
"The Secretary-General strongly condemns the shooting down today of a clearly marked UN helicopter by the Sudan People's Liberation Army (SPLA) near Likuangole, in Jonglei state of South Sudan," said a UN spokesperson.
The helicopter was on a mission related to identifying "suitable landing places to facilitate the protection of civilians' work in the state".
The Russia-made MI8 helicopter was not carrying any passengers, confirmed the UN.
"They [UN Security Council Members] stressed that this accident constituted a grave violation of the Status of Forces Agreement of 8 August 2011 and jeopardised the UNMISS operations. They strongly urged the UNMISS and the Government of South Sudan to conduct a swift and thorough investigation of the accident," said the UN statement.
UN authorities have already begun a probe into the incident and launched a search and recovery operation.
The UN also confirmed that the South Sudanese army has acknowledged the incident.
The UN chief urged the government of South Sudan to act against those responsible for the shooting. "In light also of previous incidents, the Secretary-General demands that the Government of South Sudan urgently puts in place reinforced measures within the SPLA to ensure that no such event may reoccur in the future," said Ban's spokesperson.
Reports suggest the downed helicopter belongs to the Russia-based firm Nizhnevartovskavia serving a contract with the UN. Moscow had earlier said it would withdraw its troops and helicopters from the region owing to fear of attack.
The UN created a mission in the landlocked nation after it became independent from Sudan in July 2011.