South Sudan war: President Kiir reappoints rebel leader Machar as vice-president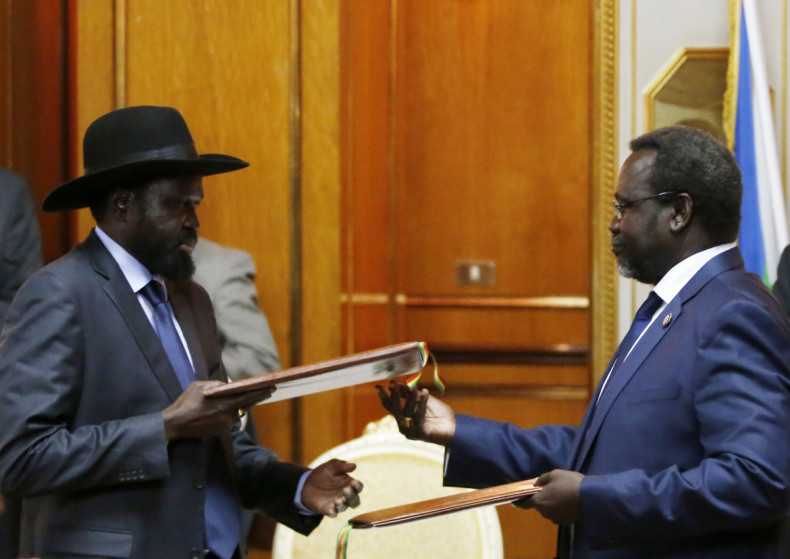 South Sudan President Salva Kiir has reappointed rebel leader Riek Machar as vice president as part of a peace deal aimed at tackling a civil war which has been running more than two years. A decree read out on state TV said Machar was reinstated as vice president, the position he held before the eruption of the civil war in 2013.
Machar, who is currently not in South Sudan, told the BBC he welcomed the move, a key demand of a peace deal signed by warring sides in the capital Juba in August 2015, after the US and the UN threatened to apply sanctions.
"I'm eager to ensure that peace returns to the country, political stability is maintained, the permanent peace is respected – I'm confident we can do this," Machar said.
The reinstatement of Machar could pave the way for a peaceful transition of power in the world's newest nation, where thousands have been killed and millions displaced.
What caused the conflict?
In November 2013, Kiir – from the Dinka ethnic group – dismissed the then vice president Machar – from the Nuer group – and his cabinet. The dismissal followed Kiir's decision to replace members of the army and government following rumours of a possible coup. Kiir also sparked outrage after dismissing all the main organs of the ruling Sudan People's Liberation Movement arguing that their time in office had expired.
August 2015 peace deal: the key points
Both parties commit to immediately ceasing violence
Machar to be reinstated as vice president
Foreign troops to be pulled out
Military presence in Juba to be substituted by police and guards
Creation of a transitional government to stay in power for 30 months
Presidential election to be held 30 days before end of transitional government mandate
Probe to investigate on abuses committed during conflict
Full document here

Tensions further escalated when Kiir accused Machar of plotting a coup in December 2013. The accusations sparked violence in the country, where factions loyal to either Kiir or Machar engaged in tit-for-tat violence throughout villages.
Ethnic-related violence also started to spread with militia groups carrying out attacks in villages and areas known to be inhabited by either Dinka or Nuer. More than 10,000 civilians have been killed in the conflict so far amid allegations of crimes against humanity committed by both sides including extrajudicial killings, abductions, rape, torture and the use of child soldiers.
The two warring sides have signed at least seven peace deals, the latest of which last August. However, violence continued, and a January report from the African Union blamed both leaders of warring sides for the ongoing unrest.