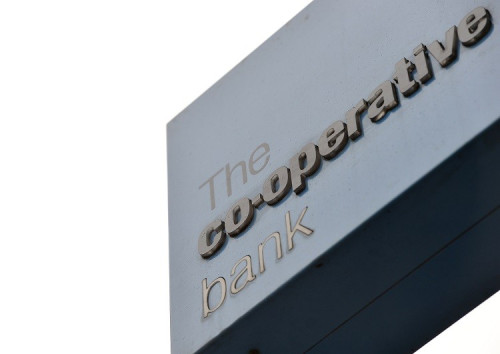 Standard & Poor's has raised its credit rating for the Co-op Group after the amount of costs to rescue the bank, following a £1.5bn capital shortfall, came in less than analysts had anticipated.
According to S&P's latest note, the Co-op Group's credit rating was moved from B to B+, with a stable outlook.
S&P said the move was due to the Co-op spending £500m less than forecasted after investors put more money in the bank than initially expected.
The Co-op Bank is one of UK's smallest lenders with 6.5 million customers and a 1.5% share of the current account market. However it is a household name in Britain, as the wider group includes supermarkets, funeral services and pharmacies.
In June 2013, Moody's slashed the bank's debt rating to junk status, due to concerns that the Co-op Bank has a black hole in its balance sheet.
The bank has since sought to plug a £1.5bn (€1.8bn, $2.5bn) capital black hole in its balance sheet by converting junior bondholders into shareholders.
It has also set out a rescue plan where six hedge funds will now own around 70% of the bank with parent Co-op Group owning the remainder.
Since the Moody's downgrade, Co-Op Bank has appointed a raft of new executives.
It appointed Chairman Richard Pym, who runs a bailed-out banking division for the government, in June 2013.
"The bank's financial performance has been a disappointment. I've run good banks and bad banks and I have confidence that the Co-op will be a very good bank. There is an absolute determination to resolve the questions that have been asked with our regulator," said Pym at the time of the appointment.
The bank also announced on the same day that it appointed a new finance director for its troubled banking arm, Richard Pennycook.
Immediately following the dire rating's agency assessment, Barry Tootell stepped down as CEO and was quickly replaced with former HSBC banker Niall Booker.