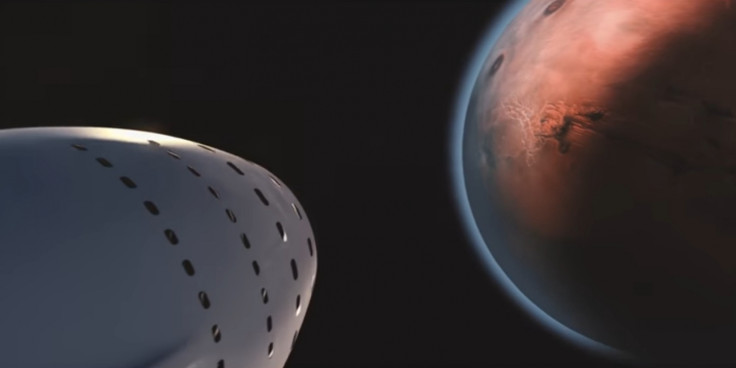 Elon Musk is giving people a glimpse of what interplanetary travel and Mars colonisation could look like in a stunning simulation video on Instagram. In a series of five videos shared by the SpaceX and Tesla chief, the computer simulation shows how the SpaceX Interplanetary Spaceship and Rocket would potentially work.
The teaser video comes ahead of the International Astronautical Congress (IAC) conference in Adelaide, Australia, on Friday (29 September) during which Musk will present an updated vision and details on the overall architecture of the SpaceX Interplanetary Transport System (ITS), which could include decreasing the size of the vehicle.
"Simulation of how the SpaceX Interplanetary Spaceship and Rocket design would work," Musk wrote in the Instagram post. "Will be unveiling the new version on Friday afternoon at IAC Adelaide. Certain aspects of the new design and its applications will be unexpected."
The first video shows off the massive rocket's design with human beings boarding the vessel before it launches from Cape Canaveral, Florida with more than 28 million pounds of thrust.
The second video sees the vessel leaving the Earth's atmosphere at a speed of over 2,000 miles per hour. It also shows the booster separating from the spaceship and making its way back to Earth while the spaceship heads towards the "parking orbit".
The third video shows the booster sticking the landing on a launch mount before a tanker filled with propellant is loaded on the top of the rocket. The reused booster is then blasted back into orbit to dock alongside the spaceship and refuel it while in orbit. The tanker then returns to Earth while the spaceship heads towards Mars.
The fourth video in the series shows the spaceship's solar arrays being deployed that can provide an estimated 200kW of energy to help power the rocket towards the red planet, coasting at a speed of over 62,000mph.
The final video shows the SpaceX craft entering the Martian atmosphere with temperatures soaring to 1,700 degrees Celsius (3,092 degrees Fahrenheit) and landing vertically on the planet's surface. The vessel's doors then open for astronauts in special space suits to leave the vessel and explore the red planet.
Musk has not provided any specific details about what will be unveiled at the upcoming IAC conference. In response to an inquiry on Twitter, he confirmed that SpaceX will show footage of its new Raptor rocket engine in action.
"The goal of SpaceX is really to build the transport system. It's like building the Union-Pacific Railroad," Musk said during his talk in Guadalajara, Mexico last year. "And once that transport system is built, then there's a tremendous opportunity for anyone who wants to go to Mars and create something new, or build the foundations of a new planet."