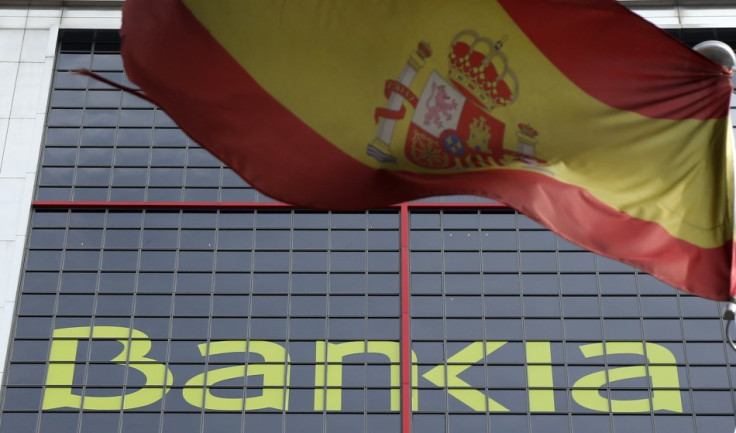 The International Monetary Fund (IMF) will reveal that Spain will need at least €40bn worth of aid, in order to save its banks, say unnamed financial market sources to Reuters.
According to the media report, the IMF's highly anticipated Spanish bank audit will also "outline overall needs of €90bn to clean up Spain's entire banking sector."
The IMF report, along with an audit of the Spanish banking sector conducted by consulting firms Oliver Wyman and Roland Berger, will help determine the size of a bailout for Spanish lenders.
The €40bn estimate is more than €15bn more than the European Banking Authority (EBA) quoted in December 2011.
The EBA's benchmark capital requirements report, which comprised its formal recommendation and the final figures related to banks' recapitalisation needs, made for frightful reading.
It said that European banks must raise €114.7bn of additional capital buffers by June - 8 percent more than its initial estimate of €106bn.
Spanish banks are vying for the worst set of results. According to the EBA, Spanish banks had a €26.1bn shortfall in banking capital requirements - the bufferzone needed to keep them afloat.
On Thursday, Spain sold more than its target of €2bn worth of bonds, after market participants perceived a countrywide bailout from Europe would be on the way.
The country sold three bonds, worth €2.07bn, and bid to cover spreads, which reveals the subscription rate - or appetite - for the offerings, was strong.
Bid to cover spreads remained healthy, with Spain's 4.25 percent 4.5-year bonds bid-to-cover spread at 2.56, a 5.85 percent 10-year bonds bid-to-cover at 3.29 and a 3.30 percent 2.5-year bonds bid-to-cover at 4.26.
Spain sold €638m of two-year bonds sold at a yield of 4.335 percent, up from 3.463 percent from the previous sale in April this year, €825m of four-year bonds sold at a yield of 5.353 percent, up from 4.319 percent, €611m of 10-year bonds sold at a yield of 6.044 percent, up from 5.743 percent.
Spanish CDS spreads, the cost of insuring Spanish government debt against a default, fell slightly by 16 basis points (bps) to 574, compared with Italy which stands at 531.4 -20bps.
According to another report in the Financial Times, European officials were considering financial support for the Spanish banking sector.
In exchange, the newspaper says, Spain would not be required to implement additional measures beyond those already agreed with the European Commission (EC).
"Banks can break Spain's back," said a group of analysts at RBS. "We estimate bank liabilities may push Spanish debt/GDP to 110%, including regional and local authority debt and unpaid bills. Moreover, if a resolution regime is not implemented quickly, the potential capital creation effect from haircutting outstanding subordinated bonds will rapidly disappear.
"Spain alone cannot bear the weight of all its banks. Bank liabilities could be the straw that breaks the camel's back, bringing Spain's debt/GDP ratio well over 100% and resulting in more austerity, similar to what happened in Ireland in 2009," they added.