Spain Boss Vicente Del Bosque Tries To End Talk About Cesc Fabregas' Lack Of Commitment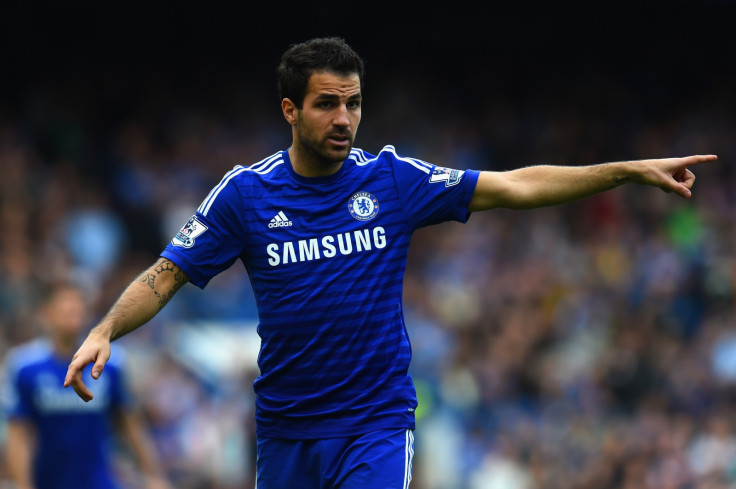 Spain boss Vicente Del Bosque has tried to put an end to any talk about Cesc Fabregas' lack of commitment to the national team, claiming he believes the Chelsea midfielder was not fit enough to play in his country's last two fixtures.
Fabregas' club manager Jose Mourinho claimed after the victory over Liverpool that the midfielder had played carrying an injury and was unable to turn out for Spain. However, with some reports suggesting he didn't trust what he heard from the Portuguese boss, Del Bosque then urged the Chelsea star to fly to Madrid to undergo a scan by the national team doctors.
Only after that scan, was the midfielder pulled out of the games against Belarus and Germany and sent back to London to continue the recovery with his club.
Since the Spanish Federation released a statement saying it officially "rejects any possibility of a hamstring injury", suggesting he just had a minor discomfort, many people in Spain have since accused him of a lack of commitment to the national team.
Even Spain captain Sergio Ramos questioned Fabregas and also club teammate Diego Costa with Del Bosque later adding that the duo may even lose their places to newcomers in the national set up.
Del Bosque has now, however, tried to play down the gathering disquiet revealing a conversation with Fabregas before his was withdrawn. The national boss also added that Fabregas had proved his commitment to Spain over recent years.
"So much has been said this week that it embarrasses me to discuss the matter. I believe in sporting values, trust and I don't understand this lack of compromise," Del Bosque told AS.
"We all know Fabregas. He has a sporting competitive edge. When he came to take his medical, he said: I've attended 125 international get-together's and only played 94 games.
"This is down to me and Luis selecting him 94 times in the past. These players show up and they want to play, if they can't make it I have to believe what they say."
When questioned why they decided to rest him even though the scan revealed he did not have a hamstring injury, he said: "We decided not to let him stay as he said to me: I have a knock and when I move this leg it's sore.
"It's bad news when we enter a dynamic of a lack of trust. Some of those casting opinions should be on the bench."
© Copyright IBTimes 2023. All rights reserved.