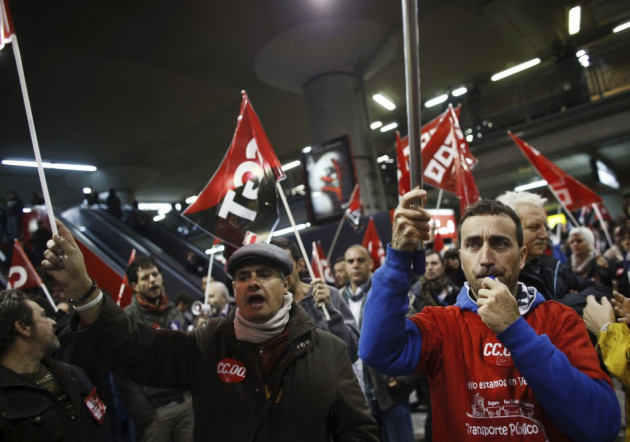 Workers across the European Union are staging anti-austerity walkouts and protests to mark a "Day of Action and Solidarity", as concerns on government spending cuts and tax hikes increase in the region.
A general strike called by the unions has already started in Portugal and Spain at midnight local time (23:00 GMT) which may paralyse public life across the Iberian Peninsula. Unions in Italy and Greece will also stage demonstrations and walkouts against tax rises and benefit cuts.
Protests are also expected to take place in Germany, Belgium, UK, France and some of the eastern EU nations. Approximately 40 groups from 23 nations are part of the action.
The strikes have been called by the European Trade Union Confederation, which has said that it "strongly opposes the austerity measures which are plunging Europe into economic stagnation, recession, and dismantling the European social model".
Spain with an unemployment rate above 25 percent is said to be on the brink of seeking financial aid from international lenders. Prime Minister Mariano Rajoy had been trying to delay the funds, as it could lead to further budget cuts.
Public anger was on the rise after a 53-year-old Spanish woman jumped from her apartment to death as bailiffs tried to evict her from home for non-payment of mortgages.
"We're going to protest because they're ignoring people's rights. People are being evicted and they're raising our taxes," Sandra Gonzalez, a 19 year-old social work student at Madrid's Complutense University told Reuters.
The Portuguese public have been relatively calm after the government accepted EU aid in the previous year, but opposition to the administration's austerity measures is on the rise, threatening to affect further reforms.
Speaking to Reuters, Armenio Carlos, head of Portugal's CGTP union said: "the first ever Iberian strike would be a great signal of discontent and also a warning to European authorities".
About 5 million workers in Spain and a quarter of the 5.5 million employees in Portugal are union members.
The strike is expected to restrict long and short distance train and flight services in Spain while hospital services could be limited to emergency services.
Teachers and students are expected to march in Italy while transportation systems may be halted for four hours.
Public and private sector workers in Greece are set to strike for three hours and hold rallies in solidarity with their Spanish and Portuguese counterparts.