Spain's Deficit Targets at Risk as Recession Deepens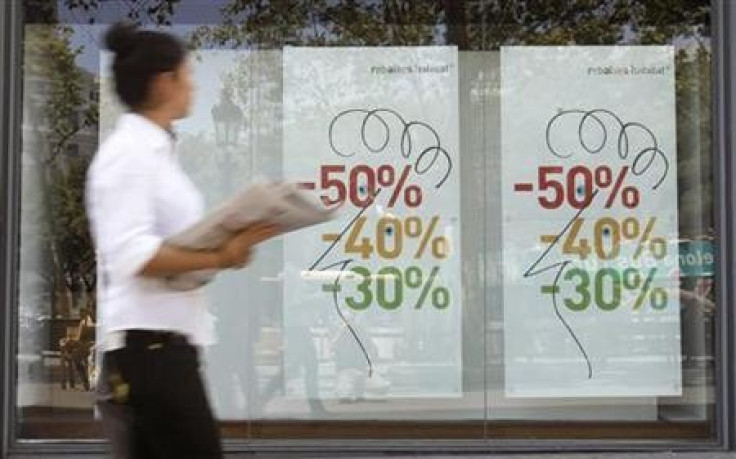 Spain may again miss its deficit reduction targets after official data suggested an even weaker fourth quarter performance for Europe's fourth-largest economy.
Spanish GDP contracted by a worse-than-expected 0.7 percent in the final three months of last year, the National Statistics Institute said Wednesday. The annual slippage was measured at 1.8 percent while contraction for the whole of 2012 was 1.37 percent.
European Union officials hinted Monday that deficit reduction targets could be eased if Spain's economy continues to sink into recession. Spain likely missed its goal of a 6.3 percent deficit last year, the Bank of Spain has forecast. This year's target is set at 4.5 percent.
"If there has been a serious deterioration in the economy, we can propose an extension of a country's adjustment path," said EU Economic and Monetary Affairs Commissioner Olli Rehn during a press conference with Span's Economy Minister Luis de Guindos. "That's what we did last year in the case of Spain."
The EU will update its budget assessments on 22 February.
Spain's Prime Minister Mariano Rajoy is set to unveil a new set of stimulus measures to parliament, aimed at reviving the debt-laden economy and attacking record unemployment. Reuters has reported the package will include tax incentives for young entrepreneurs and small businesses but will not breach the government's broader pledge to reduce public spending.
Unemployment remains one of Rajoy's key challenges as he attempts to drag Spain out of an economic slump that has lasted for more than five years. Nearly one in three jobseekers in Europe are based in Spain, according to EU data, and the rate of youth unemployment was measured last week at a staggering 60 percent.
Public spending cuts and state-led austerity are making job creation increasingly difficult. Catalonia, Spain's biggest and most important economic region, made a formal request Tuesday for €9.1bn from the country's emergency liquidity fund. Around €7.7bn will go to bond redemptions with the remainder targeted for deficit reduction. Madrid, the second-biggest contributor to Spanish GDP, will cut spending by around €1.4bn this year following a €1bn reduction in 2012.
Spain's banks are also finding it difficult to inject new loans into the economy as new rules force them to set aside more capital to offset losses on their sagging property portfolios. Bad debts at Spain's biggest banks hit an all-time high of 11.4 percent of total portfolios in November, according to Bank of Spain data, and many analysts are predicting even more writedowns for 2013.
Spain's access to the public bond markets, however, has been surprisingly robust so far this year as the government has taken advantage of foreign investor demand for debt that has the explicit backing of the European Central Bank. Investors bid for nearly €24bn of the €7bn benchmark 10-year bonds offered for sale last week, and which carried a 5.4 percent coupon.
"Never in the history of Spain's Treasury has there been such a volume of demand, whether in an auction or a syndicated sale," Economy Minister de Guindos said. "This is a clear indication of the Spanish economy's credibility."
© Copyright IBTimes 2023. All rights reserved.