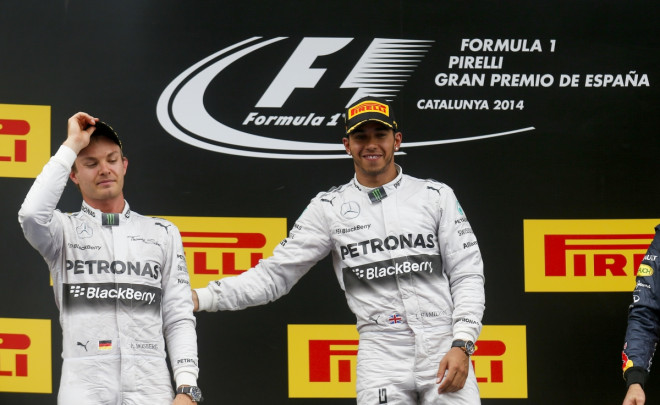 Lewis Hamilton pipped Mercedes teammate Nico Rosberg to win his fourth GP in a row in Barcelona, taking his place at the top of the championship standings.
Hamilton looks to have well and truly made up for his inability to finish in the opening GP in Australia with the Brit now taking the lead in the championship after a close race with Rosberg. He has finished every race ahead of the 28 year old since and Sunday was no exception despite the closeness of first and second in the dying seconds of the race.
Australian Daniel Ricciardo took third place while Sebastian Vettel came back from a gearbox failure in the qualifying round – which put him in 15th spot from the outset – to mount a gutsy fight for victory with the top three.
Rosberg looked to be gaining on Hamilton in the final lap after closing in on a 4.8 second advantage over the eventual winner, but he was unable to pass, resulting in confirmation of second place at the flag.
"One more lap and I would have been close enough to give it a good go," he said. "I'm a bit gutted, but still second place and in a good position in the championship. There are many races to go."
Hamilton also acknowledged that Rosberg was too close on his tail for comfort, telling reporters after the race: "I wasn't fast enough really today.
"Nico was quicker. I had to rely on my engineers to tell me where I could find time and what the gap was."
He continued: "It was far from a perfect race. It was very difficult to focus when you are being pushed from behind but I had an oversteering car. It makes it so much harder to save the tyres. Nico Rosberg was catching me on the entry of corners today.
"I was watching a screen around the circuit and I could see how close he was to me! All I was thinking about at the final corner was not to lock up and not make mistakes and fortunately I did not.
"When you are under pressure, and you do not snap under pressure, that is when you know you have your stuff together. Pressure motivates me. Everyone has their breaking point but I have not found that."
Hamilton is now on 100 championship points while Rosberg is snapping on his heels on 97. Their closest rival is Fernando Alonso on 49 points and with under two weeks to prepare for the Monaco Grand Prix Hamilton will be particularly keen to get a tighter grip on the lead at the top.