Arsenal starlet Jon Toral has told IBTimes UK he is working hard during his loan spell at Brentford in order to convince Arsene Wenger he deserves a new contract at the Emirates Stadium. The midfielder's current contract is due to expire in the summer.
The 20-year-old talented midfielder left the prolific Barcelona academy – La Masia – in 2011 alongside his close friend Hector Bellerín to move to North London and fulfil his dream to play in the Premier League.
After making the trip to New York with the first-team squad in pre-season, Wenger decided to send Toral to Brentford, on loan, to earn more regular time.
Toral has since seized his opportunities in the Championship in order to secure a return to the Emirates Stadium, with the Gunners having the option to renew it automatically.
On Tuesday night the former Barcelona wonderkid sent a message to Wenger by scoring a hat-trick and leading Brentford to a 4-0 victory over Blackpool.
Toral tells IBTimes he wants to help Brentford push for promotion to the Premier League but cannot hide his dream to share the Arsenal dressing room with his friend Bellerin.
"It would be a dream to play in the Arsenal first-team and to play with Hector. I have already played some friendlies with them but I am yet to make my debut," he said.
"My contract at Arsenal is due to expire in the summer but they have an option to renew me (automatically). I am working hard to make the decision easier for them."
Toral was considered the next big thing to emerge from Spanish football during his days in La Masia. Barcelona made a desperate attempt to keep him in Spain but the Arsenal temptation was too hard for him.
"Since I was a kid I had the dream to play in the Premier League," he said.
"Arsenal gave me the chance when I was 16 and I thought it was the best for me. Barcelona made me an offer but the decision to join Arsenal was taken."
There were then inevitably a lot of comparisons with Cesc Fabregas, who made the same trip before becoming a hero in North London.
"Cases like the Fabregas one pushed you a little bit but it is not good to compare with players like him who are major stars," he said while pointing out that not every wonderkid develops into a world class star. "Fran Merida (another player who left La Masia for Arsenal in the past) was a really good player and couldn't thrive in the first team."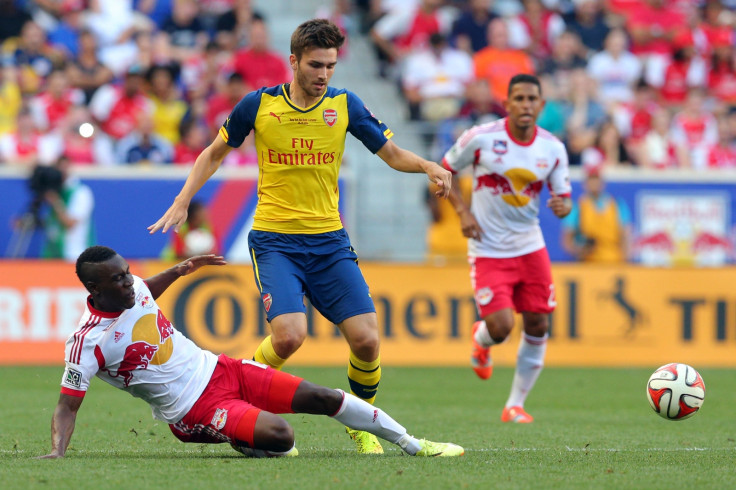 Toral's adaptation to England was more than easy as his mother is English and he spoke it fluently from the very beginning. However, a problem with his knees forced him to undergo four operations – two in each knee – and hampered his progress.
"I arrived at Arsenal already injured and the first two seasons I barely played. It was hard. But it is over. Last year I played almost the whole season (with Arsenal Under 21) and this season I have not had any problem," Toral said.
Games like the one against Blackpool proved that the nightmare is finally over: "I am enjoying this season a lot."
"Nobody expected it but we are close to promotion. I am learning a lot although I have had the luck to start many games. I am very happy for my performance against Blackpool because I took the chance after not starting a league game since November," Toral said.
When Toral left Barcelona some used to see in him a little Xavi Hernandez or Andres Iniesta but the Spaniard is physically stronger than the classic La Masia midfielders.
"Now I am playing as a number 10, moving with a lot of freedom. I feel really good there because I have the chance to come from deep to score. Sometimes I have also played on the flanks. I also help in defence," Toral said.
"When I was a kid I tried to mirror Gerrard, Lampard, Iniesta or Xavi. Also Cesc. You try to copy the Spaniards because are very talented, but also the English."
Toral is aware his position in Wenger's squad is covered with the likes of Aaron Ramsey, Jack Wilshere, Santi Cazorla or Alex Oxlade-Chamberlain.
"My position is complicated because there are great players in the first team but I wish to have the luck. It would be great to learn from those players," he said.
"Hector last season was on loan at Watford and now is doing really well in the first team. I knew it. I knew that as soon as he had the chance he will take it. And he is doing it."