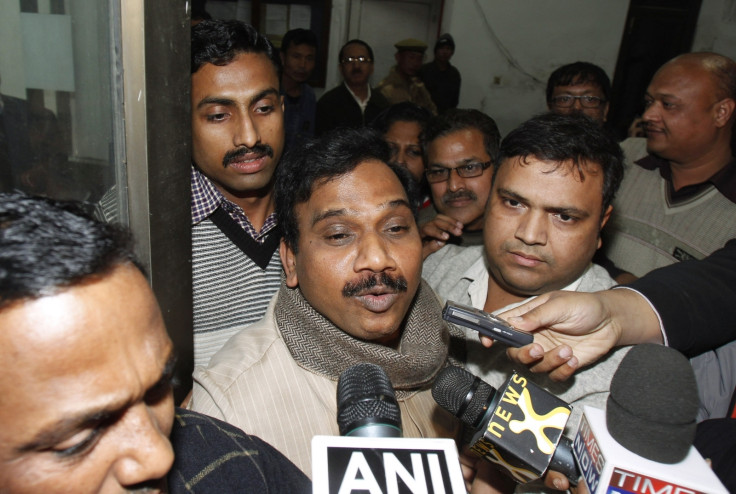 A special court in New Delhi has acquitted all 17 accused, including two high-profile political figures, in a case which was once billed as India's biggest corruption scandal in the telecom sector. The accused were pronounced "not guilty" by the court after the prosecution failed to provide enough evidence to incriminate them.
The "2G scam", as it was known, rocked the government led by the Congress party in 2010 and eventually led to its downfall paving the way for a right-wing government led by the Bharatiya Janata Party (BJP) in 2014. It was claimed that malpractices involved in the allocation of airwaves and licences caused the exchequer a loss of up to $28bn (£20.9bn).
Announcing the verdict on Thursday (21 December), six years after the trial began, Justice O P Saini read out only the operative portion of the judgment and said: "I have no hesitation in holding that the prosecution has miserably failed to prove the charges and all the accused are acquitted of the charges."
The judgment is bound to have serious political ramifications in the country as the BJP, then in the opposition, capitalised on the alleged scandal and won the general election in 2014.
"Justice has prevailed," M Kanimozhi, who was a member of the upper house of the Indian parliament when the alleged scandal broke out, told reporters after the judgment. Andimuthu Raja, who was the telecom minister when the alleged corruption took place, broke into tears as the judge was delivering the verdict.
"Like a good lawyer, I will comment only after reading the full verdict," Raja told journalists outside the court.
Kanimozhi and Raja are leading members of a Tamil Nadu-based regional party, the Dravida Munnetra Kazhagam (DMK) which was part of the coalition government headed by Manmohan Singh of the Congress.
India's premier investigating agency, the Central Bureau of Investigation, could appeal against the verdict in higher courts.
"I had always maintained that this was no scam. It was a scam by former CAG [Comptroller and Auditor General of India] Vinod Rai. We stand vindicated... The telecom sector is in dire straits thanks to Vinod Rai and then leaders of opposition in the Lok Sabha [lower house] and the Rajya Sabha [upper house]," Kapil Sibal, a senior Congress leader, told a local television channel.
The CAG had alleged in a report in 2010 that licences for 2G spectrum were sold at throwaway prices when they were auctioned in 2007-08. All the accused denied taking bribes and argued it was a continuation of the earlier process.