Spectris Plc is expected to go for some small acquisitions after acquiring IRM, Sixnet and Omega in the previous year, which add a significant strategic growth platform for its Industrial Controls segment. The group is scheduled to release its interim management statement on Friday.
The group which develops and markets instrumentation and controls, said Asian annual sales increased by 17 percent on a like-for-like basis compared to previous year and now accounts for 33 percent of the total sales. This makes the group's Asian region of a similar size to that as Europe.
"I wouldn't be surprised if we do some other small acquisitions as we go through 2012, but nothing on the scale of the Omega buy just yet. China is investing in all its sectors from infrastructure to primary resources to manufacturing and we also see an investment in (research and development) taking place in China, which is very beneficial to our businesses," said CEO John O'Higgins to Reuters in an interview.
For the full year ended December 31, Spectris reported record sales of £1,106.2 million, an increase of 22.6 percent on sales of £901.9 million a year ago. The group's revenues benefited from the favourable exchange rates which contributed around £4.8 million. Its pre-tax profits increased by 45 percent to £191.6 million from £132.3 million with earnings per share at 86.6 pence.
"We are very pleased with our performance in 2011. The progress we made on all aspects of our strategy was fundamental to delivering these results. Whilst the current macro-economic outlook remains uncertain, the Board is confident that, as a result of continued investment in new products and applications, together with the growth opportunities and resilience which our recent acquisitions provide, Spectris is strategically well positioned for the year ahead," said Chairman John Hughes while commenting on the growth and outlook.
The automotive sector is providing good growth opportunities as new research programmes are established, especially in Asia. New aerospace programmes will provide growth opportunities and the group expects its products to be in demand for applications such as materials and structural integrity testing of aircraft.
Spectris says the metals and mining sector has recovered and it is anticipating making further investments in the sector following ongoing demand for infrastructure projects from emerging markets.
Recent acquisitions have provided Spectris the strength in the industrial automation and process measurement markets; however, demand from general manufacturing sectors still depends on the global economy. The group is positive that Omega Engineering will provide good growth opportunities in emerging markets, mainly in China and Latin America.
Below is a summary of sector comparisons in terms of price earnings, earnings per share, dividend per share, dividend yields, return on equity and price-to-book ratio. The table explains how the company is performing against its peers/competitors in the sector. The table below represents top ten companies based on market capitalisation.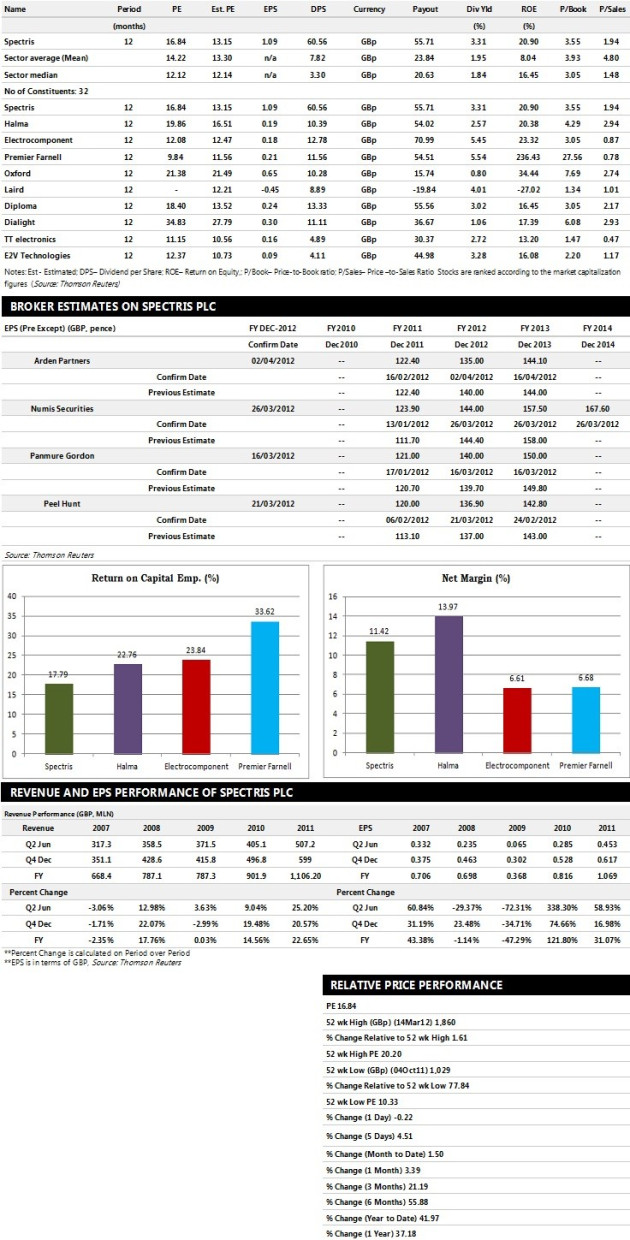 Brokers' Views:

- Arden Partners assigns 'Add' rating
- Numis Securities gives 'Add' rating with a target price of 1880 pence per share
- Peel Hunt recommends 'Hold' rating
- Credit Suisse assigns 'Outperform' rating with a target price of 1900 pence per share
Earnings Outlook:

- Arden Partners estimates the company to report revenues of £1,252.00 million and £1,315.00 million for the FY 2012 and FY 2013 respectively with pre-tax profits (pre-except) of £218.00 million and £233.00 million. Earnings per share are projected at 135.00 pence for FY 2012 and 144.10 pence for FY 2013.
- Numis Securities projects the company to record revenues of £1,281.50 million for the FY 2012 and £1,332.80 million for the FY 2013 with pre-tax profits (pre-except) of £227.60 million and £249.00 million respectively. Profit per share is estimated at 144.00 pence and 157.50 pence for the same periods.
- Peel hunt expects Spectris to earn revenues of £1,265.00 million for the FY 2012 and £1,310.00 million for the FY 2013 with pre-tax profits of £220.00 million and £230.00 million respectively. EPS is projected at 136.90 pence for FY 2012 and 142.80 pence for FY 2013.