Spending Review 2013: George Osborne's Axe Falls on Whitehall and Civil Servants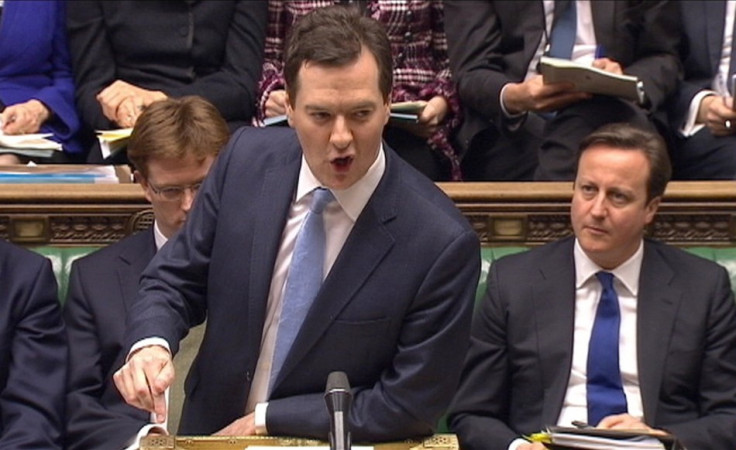 Chancellor George Osborne claimed the British economy is "back from the brink of bankruptcy" as he outlined billions of pounds more in departmental cuts under his spending review for the 2015/16 year.
Osborne, speaking for just over 50 minutes in the House of Commons, announced the government is slashing £11.5bn (€13.6bn, $17.7bn) in spending. The chancellor claimed that £5bn of these spending cuts would be found through efficiency savings, such as renegotiating contracts.
"This coalition came into office with a commitment to address, with firmness and resolve, one of the biggest economic crises of the post war era," said Osborne.
"Britain is moving out from intensive care and into recovery."
Growth has stalled, incomes have fallen to record lows, and long-term unemployment is rising in the UK economy. Output has continued to under-perform and Osborne will miss a key fiscal target of bringing debt down as a portion of GDP by 2015/16 by two years.
Osborne said there would be £50bn of capital investment in the 2015/16 fiscal year, including on roads, the rail network, and building new schools and homes, to help boost the beleaguered economy.
The largest Whitehall department cuts were the Cabinet Office, Justice, local government, and Defra, all with 10% reductions in their annual budget. The Department for Work and Pensions will lose 9.5% of its budget.
The NHS and international aid budgets were protected from the Treasury's axe. Education spending will increase in cash terms, but suffer a 1% real cut.
While the substantive welfare cuts have already been made, Osborne said he would introduce a "temperature test" for expatriate pensioners in receipt of the winter fuel payment. He said those in hot countries who did not need it would no longer receive it.
Furthermore, all recipients of benefits who cannot speak English will be required to attend language classes. Job seekers in receipt of JSA will be made to attend a job centre appointment once a week rather than every fortnight.
Osborne will cap welfare spending each year, in cash terms, with the limit to be announced in the annual budget. Pensions will be excluded from this cap.
Public sector workers will continue to be hit with a 1% cap on pay rises and the chancellor said he would scrap the automatic time-linked wage increases for civil servants.
"Progression pay can at best be described as antiquated, at worst it's deeply unfair to those in the public sector who don't get it and those in the private sector who pay for it," Osborne told MPs.
There will be 144,000 fewer public sector workers in 2015/16 as jobs are lost.
Osborne also said he expects £1bn to be raised from a crackdown on tax evasion, following a loose agreement on action by G8 leaders to make international tax affairs more transparent.
"There is a ticking time bomb of public sector cuts that have yet to be implemented from when they were announced in 2010," said Gillian Fawcett, head of public sector at the Association of Chartered Certified Accountants (ACCA).
"The full impact of the austerity measures have yet to be felt by households in Britain. However, the cuts of £11.5bn announced today in the Spending Review for 2015-16, in addition to those from 2010, will be felt with full force when they are eventually implemented. The protection of critical front-line services can no longer be guaranteed.
"No one knows yet what the impact the cuts will be and yet Chancellor's scythe keeps slicing away."
© Copyright IBTimes 2023. All rights reserved.