The Spice Girls reunion was one of the highly anticipated and talked about performance of the Closing Ceremony of the 2012 London Olympics on Sunday. The 90s pop group with the glamorous five - Melanie Chisholm (Sporty Spice), Emma Bunton (Baby Spice), Melanie Brown (Scary Spice), Victoria Beckham (Posh Spice), and Geri Halliwell (Ginger Spice) delivered their best and gave a taste of their hits "Wannabe" and "Spice Up Your Life".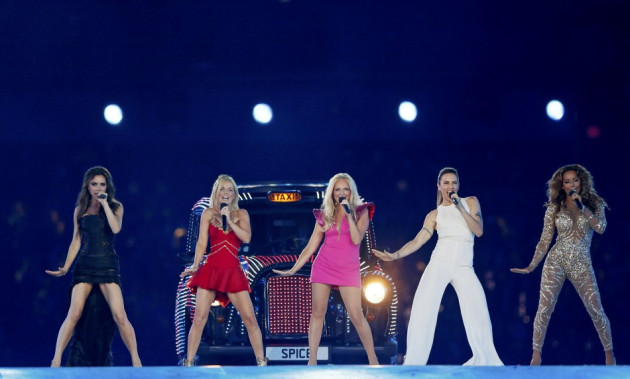 It was a boom in the social networking site too. On the Twitter official blog, it claims that the Spice Girls got more than 116,000 tweets per minute during the Olympic Games closing ceremony, more than any other performer or athlete.
Most of the tweets were about the outfits of the Spice Girls, Mayor Boris Johnson enjoying their performance and dancing to their tunes.
The Spice Girls were active on Twitter with Victoria Beckham posting messages and photos. "We did it!! I love u girls so much!!!!! xxxvb," Victoria tweeted with a picture of the group backstage immediately following their performance.
She also added a solo photo with a caption, "I was a pop star for the night!! I love u @MelanieCmusic, @OfficialMelB, @GeriHalliwell, @EmmaBunton!! we did it!! X vb" and then later in the night she tweeted again, writing: "totally overwhelmed. Thank you so much to all of our AMAZING fans, I love u, VB x."
Melanie Chisholm tweeted, "What an honour to represent our country and perform for all of the incredible Olympians. We salute you one and all #coloursoftheworld x x."
The Twitter disclosed that there were more than 150 million tweets about the Olympics over the past 16 days of the games. The tweets were rated by per minute (TPM), and on the top five were Usain Bolt (@UsainBolt) of Jamaica winning gold in the 200m sprint which received 80,000+ TPM, Bolt winning gold in the 100m sprint (74,000+ TPM), British tennis pro Andy Murray (@andy_murray) winning gold in the men's tennis singles (57,000+ TPM), Jamaica wins gold and sets the world record in the men's 4x100 relay (52,000+ TPM) and Team USA beats Spain to win gold in men's basketball (41,000+ TPM).