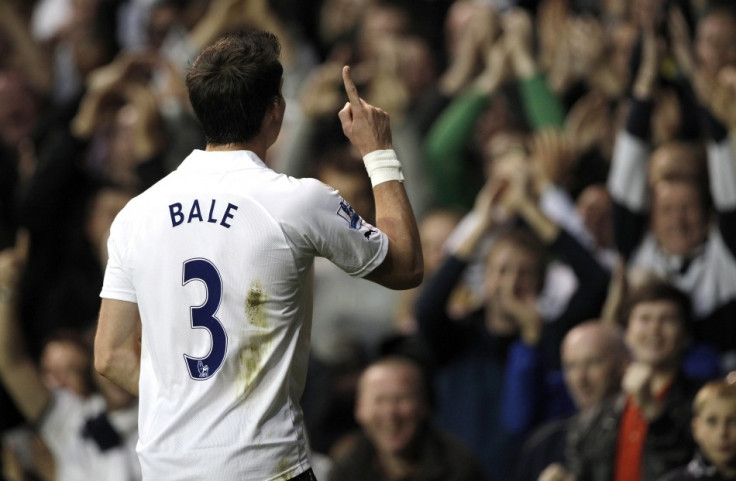 Former Chelsea and England star-turned-pundit Ray Wilkins believes that if Barcelona make an offer for Gareth Bale in the next transfer window, Tottenham may not be able to refuse, as speculation starts to surround the Wales international after his top-notch performances this season.
At just 22-years-old, Bale has impressed in both the Barclays Premier League and the Champions League. Injuries were a major setback for the star last season, but he still managed to hold his ground against top Italian and Spanish sides as Spurs made it through to the quarter finals in the European tourmament.
And now, reports are speculating that Barcelona sent chief scout Albert Valenti to watch Bale against Fulham on Sunday, who was more than impressed with what he saw, as the winger scored and assisted Aaron Lennon's goal and helped the side to a 3-1 win.
While Tottenham have held their nerve in transfer struggles before - keeping Luka Modric from Chelsea's clutches despite a £40 million deadline day bid in the summer - Wilkins believes that the side will have more trouble trying to hold onto Bale if he is offered the opportunity to move to what is currently the most successful club in the world.
"When someone like Barcelona sits up and takes notice it makes you realise that you are playing some good football, and Gareth Bale is playing some extraordinary stuff," Wilkins told Talksport.
"Coughing up £35million is a lot of money. In the January transfer window it will be very interesting to see if Tottenham can turn that down as it is an extreme amount of money.
"Barcelona are the best footballing team on the planet but would Gareth Bale be going there to play league football or Champions League football? That's the question.
"Unfortunately, Spain now has taken over the mantle of Scotland and there are only two teams that can win the title, Real Madrid and Barcelona. The rest are easy games [for those two]."
Bale has scored five goals for Tottenham so far this season, and while he has committed his future to the club on numerous occasions, if Spurs don't make the Champions League at the end of the season he might be tempted to move elsewhere.
There is also the issue of Harry Redknappp's future at the club - Redknapp is overwhelming favourite to take on the England managerial position next summer after the Euros conclude, and should the opinionated manager leave White Hart Lane, players could become unsettled.
But Daniel Levy was the man widely credited with keeping hold of Modric amongst big-money bids during the summer, and the Spurs chief executive will likely fight just as hard to keep Bale.