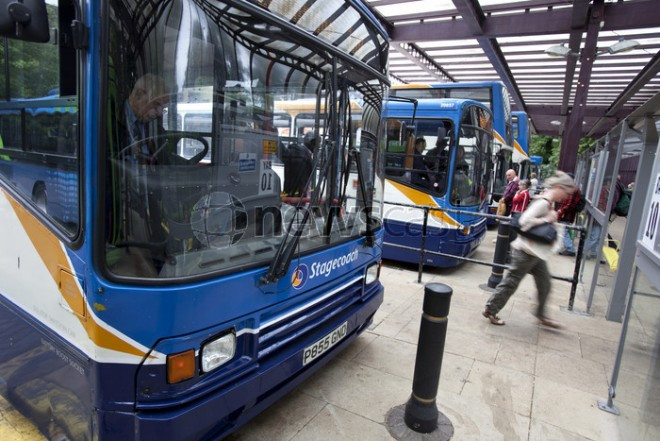 Shares in Stagecoach were up on the FTSE 250 in morning trading after the transport group reported a rise in revenue and pre-tax profit in the half year ended 31 October.
Excluding exceptional items revenue in the period rose from £1.08 billion to £1.13 billion, while pre-tax profit increased from ££75.5 million to £108.7 million.
Including exceptional items revenue was also up from £1.08 million to £1.13 million however pre-tax profit climbed more sharply, from £71.2 million to £126.8 million.
The group said it would be raising its interim dividend 10 per cent to 2.2 pence per share.
Brian Souter, Chief Executive of Stagecoach, said, "These are a strong set of results and we are encouraged by the increased demand for our services in the UK and North America. Our focus on value-for-money bus and rail travel and targeting organic growth has been the right strategy for the right time, benefitting our customers and our shareholders.
"We have delivered further revenue and passenger volume growth at our sector-leading UK Bus operations. Our investment in greener, high quality buses and the introduction of smartcard technology across our entire UK fleet means we can remain at the forefront of modal shift from car to public transport. We are pleased to have re-entered the London bus market and we believe we can deliver good value to our shareholders from the turnaround opportunity.
"Excellent operational performance and high customer satisfaction have underpinned strong revenue growth in our commuter and long-distance UK rail businesses. Our joint venture, Virgin Rail Group, has delivered further high levels of passenger revenue growth from both the business and leisure travel markets.
"Our budget inter-city coach brand, megabus.com, is driving growth in our North American business and we are excited about the prospects for further expansion.
"The Group has a strong financial position and we remain focused on robust cost control. We have made a good start to the second half of the financial year and current trading remains in line with management expectations. While we continue to monitor closely the rate and sustainability of economic recovery, we look forward with confidence and believe the outlook is positive for our bus and rail services."
By 08:25 shares in Stagecoach were up 0.23 per cent on the FTSE 250 to 215.50 pence per share.