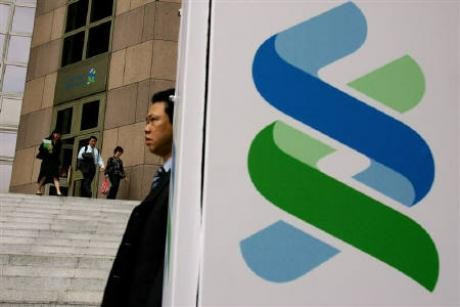 Shares in Standard Chartered were down in morning trading on the FTSE 100 despite reporting a rise in pre-tax profit of 10 per cent in the half year ended 30 June 2010.
The Asia-focused bank said that pre-tax profits were up to $3.1 billion in the first half of the year, up ten per cent from the same period last year and up 35 per cent from the previous half year.
Operating income was broadly flat in the first half at $7.9 billion, while normalised income increased three per cent to $7.9 billion.
The group said its total assets had risen 17 per cent to $481 billion and added that it would be increasing its interim dividend by 10 per cent to 23.35 pence per share.
Standard Chartered said that it had significantly reduced impairment provisions thanks to what it called a "disciplined and proactive approach to risk".
John Peace, Chairman of Standard Chartered, said, "We continued our strong performance in the first half of 2010 and both of our businesses have had an encouraging start to the second half. Despite the regulatory and economic uncertainties, our focus on the basics of banking will continue to hold us in good stead. Standard Chartered remains in excellent shape".
Keith Bowman, Equity Analyst at Hargreaves Lansdown Stockbrokers, commented,
"Whilst these are not the forecast busting results which other banks are currently reporting, Standard Chartered shareholders have not been subject to the white knuckle ride endured by others. Exposure to savings focused Asian consumers and corporates has largely removed the bank from the worst of Western excesses. As such, the dividend payment remains progressive (+10pc), whilst the group continues to be a buyer of assets, contrasting with today's confirmed branch sale by Royal Bank of Scotland.
"Nonetheless, Standard remains subject to the same uncertainties shadowing the broader banking industry. The global economic recovery is far from assured, with any back tracking in the West certain to impact on the East, whilst the failure of governments and regulators internationally to agree on the way forward provides for a potentially uneven playing field.
"For now, whilst the growth valuation attributed to Standard may add to investors' nerves, given any perceived Eastern and Chinese weakness, faith in the long term Asian story remains resolute, with market consensus opinion continuing to denote a buy."
By 09:35 shares in Standard Chartered were down 5.31 per cent to 1,801.50 pence per share.