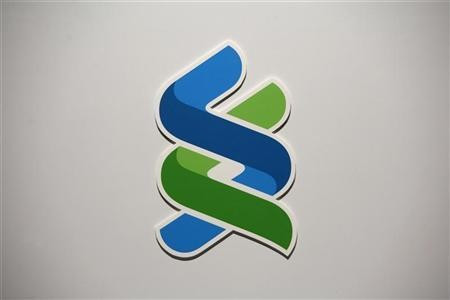 Shares in Standard Chartered were up on the FTSE 100 in morning trading after the group reported a "strong" first half of the year.
The group said that by the end of May income and profit had shown double digit growth compared with the same period in the previous year, leading the group to predict double digit growth in first half pre-tax profit.
Headcount at the group is down from the previous year.
Peter Sands, Chief Executive of Standard Chartered, said, "Standard Chartered is on course to deliver another strong first half. We anticipate delivering cost growth broadly in line with income growth for the first six months of 2011. The credit environment remains benign across Asia. We are advantaged by a very strong balance sheet which remains highly liquid, very well capitalised, diverse and conservative; and are capturing increasing levels of business from our markets across Asia, Africa and the Middle East."
By 09:40 shares in Standard Chartered were up 1.56 per cent on the FTSE 100 to 1,564.00 pence per share.