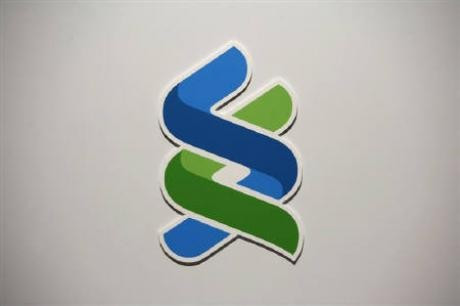 Shares in Standard Chartered were down in morning trading on the FTSE 100 as an "upbeat" pre-close update was overshadowed by the prospect of greater regulation of the banking sector by the G20.
While the G20 meeting in Canada over the weekend focused more on the themes of austerity and cutting budget deficits, banking reform looks likely to top the agenda at the next meeting in November.
In the half year ending 30 June 2010 Standard Chartered said that it had performed well with income and profit as of the end of May ahead of the same period last year, excluding the gain of $248 million the group made from the buyback of Tier 2 notes in April 2009.
The group said that income in the first half of 2010 is expected to be "broadly flat on the first half of 2009, but to show double digit growth over the second half of 2009". Income from consumer and wholesale banking performed "particularly well", but was partly offset by weaker own account income.
Peter Sands, Chief Executive of Standard Chartered, said, "Standard Chartered is tracking towards another strong performance in the first half of 2010, continuing our record of consistent delivery for shareholders. Economic conditions continue to improve across our geographies and business activity levels are increasing, although recent market volatility has had some impact on sentiment. Despite this, we are performing well and taking market share. We remain focused on the basics of good banking - capital, liquidity, risk and costs and on the disciplined execution of our strategy."
Richard Hunter, Head of UK Equities at Hargreaves Lansdown Stockbrokers, commented, "The update is realistic but upbeat, with Standard continuing to sidestep some of the issues which have plagued other UK listed banks.
"The twin spectres of increased regulation and recent market volatility have taken the shine off the shares in early trade, but on the whole the outlook is positive. In particular, the bank's exposure to the Asian regions continues to provide a boost, whilst the year on year performance against what was a difficult comparable period has improved. Headwinds remain in the form of slightly reduced wholesale banking demand, and there has also been a decline in net interest margins. Even so, the company has continued to grow its staff in the burgeoning corporate banking area, whilst the position in India remains progressive.
"In all, the bank's ability to have emerged largely unscathed from the banking crisis has been reflected by a 49% hike in the share price over the last year, during which period the wider FTSE100 has added 19%. Despite this outperformance, the general market view is that there is more to go for and as such the consensus remains that the shares are a buy."
By 09:24 shares in Standard Chartered were down 1.95 per cent on the FTSE 100 to 1,708.00 pence per share.