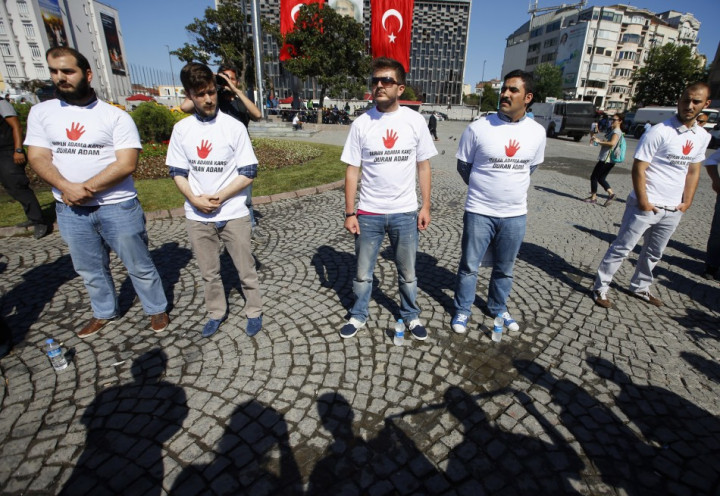 An eight-man strong group has held a counter-protest in Istanbul's Taksim Square against the peaceful Standing Man stunt, after it received the green light from the deputy prime minister.
The men, who stood for 30 minutes before leaving the square, wore T-shirts bearing the phrase "Man standing against the standing man".
Hundreds of demonstrators followed the silent vigil of performance artist Erdem Gunduz, 34, who stood silently in Taksim Square for eight hours after police swept the square clear of protesters with teargas and water cannons.
The protest went global, with men and women inspired by Gunduz's solo stunt holding similar vigils in the Turkish cities of Ankara and Izmir, as well as in Las Vegas, Paris and New York.
Hurriyet news reported that members of the Turkish police even stood in Taksim Square, holding books as part of an official initiative.
Gunduz's initial stand was against police brutality.
The original Standing Man protest was praised by Turkey's deputy prime minister Bulent Arinc, who said that the vigil of Gunduz and his supporters was "pleasing to the eye".
"This is not an act of violence [and the government] cannot condemn it," said Arinc.
Gunduz told the BBC's Turkish service: "The real violence is not showing what is going on."