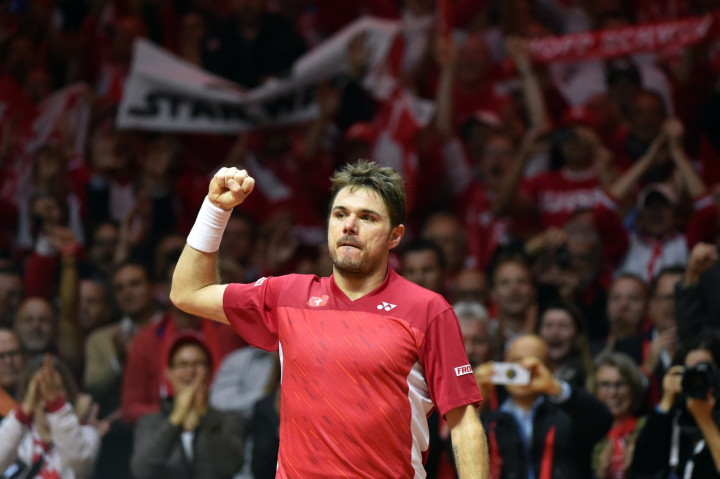 Sunday brings the final day of action from the Stade Pierre Mauroy in Lille where France and Switzerland clash in the remaining two singles matches.
How it Works:
The finals take place over three days with two teams of four meeting against each other in a series of five matches.
After Friday's opening day saw each side take a point, Saturday introduced doubles action as Switzerland's Marco Chiudinelli and Michael Lammer took on French duo Julien Benneteau and Richard Gasquet.
Sunday's final day brings the reverse of Friday's singles meetings with the team with most victories crowned champions.
Where to Watch:
Coverage of day two begins at 12:30pm (GMT) on British Eurosport 2 until 6pm. Live updates will also be available via the Davis Cup official website, while IBTimes UK will be providing daily round-ups of the action.
Overview:
Gael Monfils caused a stir on Friday after dispatching Roger Federer in straight sets in their opener.
While the Swiss' back injury that ruled him out of last Sunday's ATP World Tour final undoubtedly hindered him, Monfils was in excellent form and secured some overdue revenge after Federer came from two sets down to eliminate the Frenchman from the US Open at the quarter final stage.
After easing past Jo-Wilfried Tsonga in his opener, Stanislas Wawrinka will be carrying added expectation with doubts over his partner's fitness.
The Australian Open champion rediscovered his form at the right time in last week's ATP Tour finals and with a line drawn under the row with Federer that marred their semi-final meeting in London, Wawrinka may represent Switzerland's greatest chance of securing their first Davis Cup.
What they Said:
Monfils: "That definitely [is] one of the top three matches in my life (speaking after his victory over Federer).
"To be honest, I was very nervous in the beginning. For sure when Jo lost, it's an extra pressure because we need to get back on the road to win the title.
"Then, I think I like that atmosphere, the big court. The crowd was very good. They helped me a lot, gave me a lot of energy. At the end [it] helped me a lot because I went for my shots, which made me serve big [and hit] big forehands.
Wawrinka: "You know that you have a lot of pressure when you [play] a Davis Cup final. You know with everything that happened this week with Roger's back, there is more pressure on me because we can see it's tough for him so far.
"But I just have a good team around me. I know how to play those matches. I did so many big matches, so many important matches this year. Today it's important to show them that I'm there. They maybe [were] too focused [on] Roger and maybe they forgot about me."