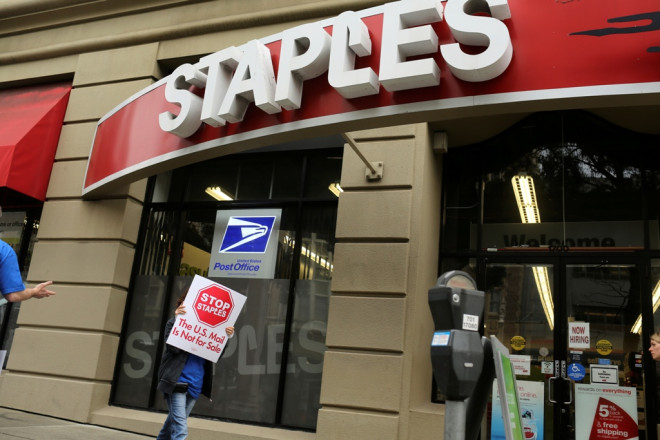 Staples, America's largest office-supplies retailer, saw its stock tumble in pre-market trading in New York after it announced a multi-million dollar cost-saving program amid declining sales.
The company's shares were trading 12.69% lower to $11.70 at 08:55 am in New York on 6 March, before the market opened. The stock finished 0.5% lower at $13.40 on 5 March.
Staples said on 6 March it would shut 225 stores in North America and reduce costs by some $500m (£299m, €364m) by the end of 2015.
Pursued by Bloomberg, Kirk Saville, a spokesman for Staples, did not immediately respond to requests seeking comment on how many jobs would be eliminated by the restructuring plan.
Staples is facing tough competition from online retailers including Amazon.com. Revenue in its fiscal first quarter would fall from a year earlier, excluding any probable impact from its restructuring plan, the retailer said without providing a projection.
Sales Dip
Staples' revenue fell 10.6% to $5.87bn in the fourth quarter ended 1 February, below the average analyst estimate of $5.97bn.
Excluding the impact of an extra week in the year-earlier quarter, sales slid 4%.
Revenue at the company's international division dropped 13%, hurt by weakness in Europe and Australia.
Net income from continuing operations rose to $212m, or 33 cents a share, from $90m, or 14 cents a share a year ago, the company said.
The company said in a statement: "The savings are expected to come from supply chain, retail store closures and labour optimisation, non-product related costs, IT hardware and services, marketing, sales force, and customer service."
Staples' chairman and chief executive officer Ron Sargent said in the statement: "A year ago, we announced a plan to fundamentally reinvent our company. With nearly half of our sales generated online today, we're meeting the changing needs of business customers and taking aggressive action to reduce costs and improve efficiency."
Rivals
Staples joins electronics retailer RadioShack in trying to revamp its business by closing stores in the wake of increasing competition from e-commerce rivals. RadioShack on 4 March announced plans to shut about a fifth of its stores after fourth-quarter sales missed estimates.
Rival Office Depot said last week that it expected sales to continue falling in 2014, after reporting an unexpected quarterly loss.
Staples operates 1,515 stores in the US and 331 stores in Canada.
Staples shuttered 42 stores in North America in 2013, ending that year with 1,846 outlets in the region.