The latest Star Wars film – Star Wars Episode VII: The Force Awakens – is not even out yet and already one of its characters, a little robot droid named BB8, has become a huge star. He even has his very own dedicated Twitter emoji that displays whenever you use the hashtag #BB8.
BB8 is a small spherical robot that makes cute sounds a la R2D2 and fans have been thrilled to hear from director JJ Abrams that for the first time, the Star Wars franchise has made use of a real robotic machine rather than a man in a robot suit, an advanced puppet or just using special effects.
During a Q&A session at the Star Wars Celebration fan convention in Anaheim, California, on 16 April, Abrams explained that UK-based award-winning film prop maker Neal Scanlan and his team had been responsible for remote-controlling BB8 to make act on screen, but what he did not say was a real technology company had been involved in bringing the robot to life.
The company in question is Sphero, a tech toy startup based in Colorado, US, and on 22 April, the firm announced it will be releasing a toy version of BB8 that will be available to purchase for the 2015 Christmas season and fans can register to receive more information.
"This is the beginning of a whole new category of consumer products. You can own a piece of the movie, have it in your home, and relive an experience that is authentic to the entertainment on the screen," Rob Maigret, Sphero's chief creative officer, told IBTimes UK.
"Our hardware and software technology advancements make it possible to build the toys of the future now. We are deepening the user connection in ways that, until today, have only been portrayed in science fiction."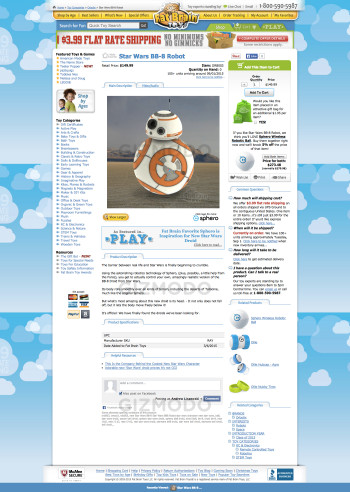 Gizmodo managed to spot a leaked listing for the BB8 toy on the Fat Brain Toys website on 21 April but the page has now been taken down. According to the listing, the remote controlled toy will retail at $150 (£100).
The description on Fat Brain Toys read: "The barrier between real life and Star Wars is finally beginning to crumble. Using the astonishing robotics technology of Sphero, (plus, possibly, a little help from the Force), you get to actually control your own, amazingly realistic version of the BB8 Droid from Star Wars.
"Its body rolls smoothly over all kinds of terrain, including the deserts of Tatooine, much like the original Sphero. But what's most amazing about this new droid is its head. It not only does not fall off, but it lets the body move freely below it!
"It's official: We have finally found the droids we've been looking for."
However, Sphero already has its own line of toys, including a spherical robot that gives the company its name, so if you are far too impatient to wait until the end of 2015 and have a way with electronics, you could also try to make your own BB8.
Industrial designer Christian Poulsen fell in love with the robot and two days after the Celebration fan convention video was released, he had already made one.
In the magazine Make he explains that all you need is one of the app-enabled Sphero toys and the ability to split it in half and attach a neodymium magnet on to the stabilisation arm of the robot.
Then you need to create BB8's head and then put another magnet and some felt in it so that the head can roll around on the top of the Sphero, as well as some paint to bring BB8 to life.
"Most projects I work on end up taking weeks, if not months to finish. With BB8, I pushed myself to make it in a day. As a result, the surfacing and paint is less than perfect, which I'm serendipitously calling 'weathered'," Poulsen writes.
"But I was able to stick to my goal, and was able to make the whole thing in a matter of hours. I wanted to capture the character and personality of the real robot as simply as possible, and I'm really happy with how it turned out."