Daisy Ridley and Elizabeth Debicki have joined the cast of Sony's forthcoming live-action/animation hybrid movie Peter Rabbit, based on the beloved literary character created by children's author Beatrix Potter. The pair will appear alongside James Corden as the titular bunny and Rose Byrne in the live-action role of Bea, who we assume will be a take on the writer herself.
The exact roles of the Star Wars and The Night Manager actors have yet to be revealed. However, it is known that they'll be lending their voices to their characters rather than appearing on screen themselves.
According to Variety, Annie's Will Gluck is currently on board the project as director while up-and-coming screenwriter Rob Leiber co-wrote the script with Gluck. Production will reportedly begin in January 2017 in Australia's animated VFX studio Animal Logic, aiming for a scheduled April 2018 release date.
First published in 1902, The Tale of Peter Rabbit followed a bunch of young anthropomorphic bunnies, who are warned by their mother not to enter the vegetable garden of a grumpy old man named Mr McGregor. While three of the siblings obey their parent, notoriously mischievous Peter sneaks into the allotment and soon finds himself having to escape from the keen gardener's clutches.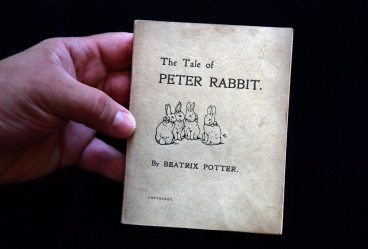 "We at Penguin Random House UK are delighted to be working with Columbia Pictures," Tom Weldon, CEO of Penguin Random House UK, told Variety. "As custodians of Potter's brand and legacy, we are excited about the opportunity this production will bring to engage a whole new audience with the world of Beatrix Potter and one of her best-loved characters, the mischievous Peter Rabbit."
Having impressed audiences with her breakthrough performance as Rey in Star Wars: The Force Awakens, Ridley has signed on for a number of upcoming projects from romance drama Ophelia alongside Naomi Watts to fantasy thriller Kolma. Of course, she'll also reprise her role as the young Jedi-in-training in Star Wars: Episode VIII come 2017. Debicki will next be seen in sci-fi God Particle opposite Daniel Brühl, Gugu Mbatha-Raw and David Oyelowo as well as eagerly-anticipated Marvel sequel, Guardians Of The Galaxy Vol. 2.
For more entertainment news follow A-List on Twitter @Alistinsider