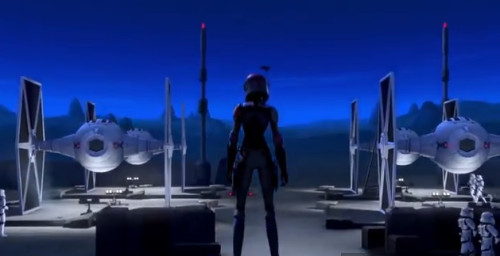 To coincide with Star Wars Day, a trailer for the upcoming animated film Star Wars Rebels has been unveiled to the world.
The animated movie, set for release this autumn, will be set between Episodes III, in which Anakin Skywalker goes to the dark side and becomes Darth Vader, and IV, in which Anakin's son, Luke, and his fellow rebels begin to fight back against the Empire.
The trailer suggests the movie will explore the origins of the insurgence and the creation of the rebel band, and will also be laced with the sort of irreverence common to most of today's animated movies.
To watch the full Star Wars rebels trailer, click on the link below:
Meanwhile, fans around the world have been dressing up as their favourite Star Wars characters and holding lavish parties to celebrate May 4th - the international Star Wars Day.
The celebrations have touched every corner of the globe, from America, where Vader threw the first pitch to start a baseball game in Cincinnati, to Tunisia, where the local tourism board has been taken crowds of fans around one of the original Star Wars film sets.
To see pictures of the celebrations, click here.