Five hundred and forty six days since it was first announced, LucasFilm has at long last announced the principal cast of Star Wars: Episode VII.
As we've known for some time the original starring trio of Harrison Ford, Mark Hamill and Carrie Fisher will indeed reprise their iconic roles as Han Solo, Luke Skywalker and Leia Organa, and they'll be joined by a bunch of new faces young and old.
That trio will also be joined by Peter Mayhew, Anthony Daniels and Kenny Baker as Chewbacca, C-3PO and R2-D2.
There are some recognisable faces among the newcomers, some new ones and even a couple of screen legends, so let's take a look at who will be journeying to the galaxy far, far away.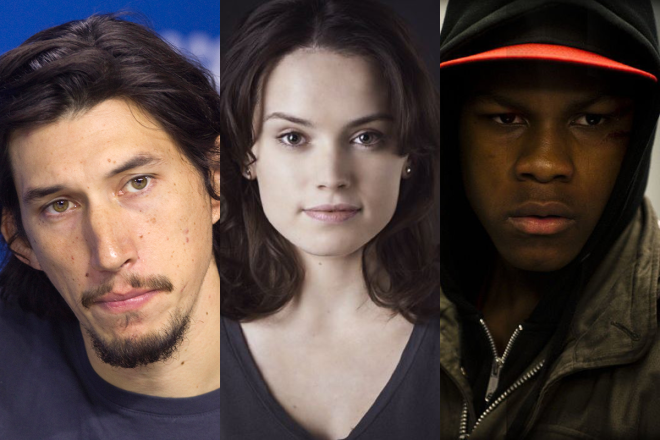 Adam Driver
Long-rumoured to be playing a villain, the exact nature of of his role remains unknown, but unlike most of the rumours surrounding the film, this turned out to be true.
Driver was born in California and prior to a career in acting joined the US Marine Corps after the tragic events of 11 September 2001.
He served for nearly three years before an injury put an end to his military ambitions. Since turning to the very different world of acting Driver, 30, has made a name for himself with small roles in Lincoln, Inside Llewyn Davis and Frances Ha. However he is best known for a role on the smaller screen in Lena Dunham's hit HBO comedy Girls.
---
John Boyega
LucasFilm has made it clear that the film will have close ties to Britain, much like George Lucas' original series. Boyega is a 22-year-old British actor from Peckham whose career began with a breakout role in 2011's Attack the Block - a cult British sci-fi action flick.
Boyega has since steered clear of the big time, despite winning many plaudits for his turn in Joe Cornish's London-set alien action film, but Star Wars: Episode VII obviously changes all that - just as it will likely change this young man's career.
---
Daisy Ridley
You're not wrong! Daisy Ridley is another British acting startlet, though a complete unknown compared to the rest of the cast. That changes now...
She has been in TV shows Casualty and Mr Selfridge so some may recognise her, but Star Wars 7 clearly marks a big step up for the lass. Her big-screen debut comes later this year in horror film Scrawl, which is currently in post-production.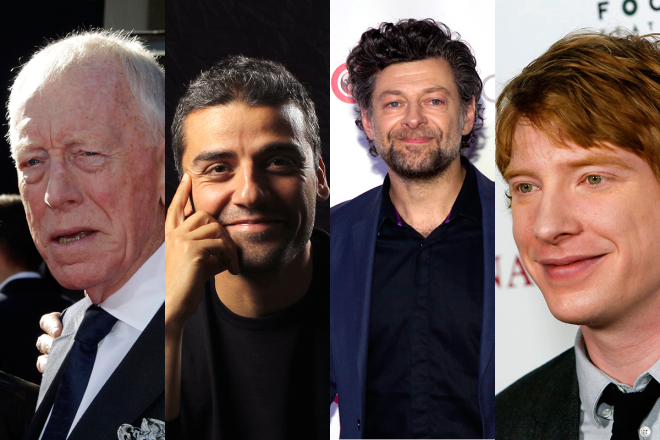 Max von Sydow
From an unknown to an industry legend. Von Sydow lends the film a mighty dose of gravitas and (at least according to imdb page) Star Wars: Episode VII will be his 150th acting role in a career that has spanned eight decades.
Best known for The Exorcist, von Sydow has also recently appeared in Ridley Scott's Robin Hood, Martin Scorsese's Shutter Island and in 2002 Steven Spielberg's Minority Report.
He was nominated for an Oscar in 2012 for Extremely Loud & Incredibly Close.
---
Oscar Isaac
A relative newcomer, Isaac has been around but has garnered a lot of attention in recent weeks thanks to his starring role in the Coen Brothers' Inside Llewyn Davis. Prior to that award season-bothering role Isaac enjoyed roles in Drive alongside Ryan Gosling and Robin Hood (alongside a certain Max von Sydow.)
---
Domhnall Gleeson
Bill Weasley has had a better post-Potter career than any of his on-screen siblings. He's the son of In Bruges' Brendan Gleeson and following his spurt of fame with the latter Potter films has been seen in Dredd, Anna Karenina and most famously as the lead in Richard Curtis' About Time.
---
Andy Serkis
Another screen legend, just not as recognisable a face as Max von Sydow. Nothing against Serkis' looks, it's just that more often than not we don't see him on screen at all. The Brit famously brought Gollum to life in Peter Jackson's Lord of the Rings trilogy, but has also played King Kong, Captain Haddock in Tintin and Ceasar in Rise of the Planet of the Apes.
Star Wars: Episode VII is set for release on 18 December 2015.