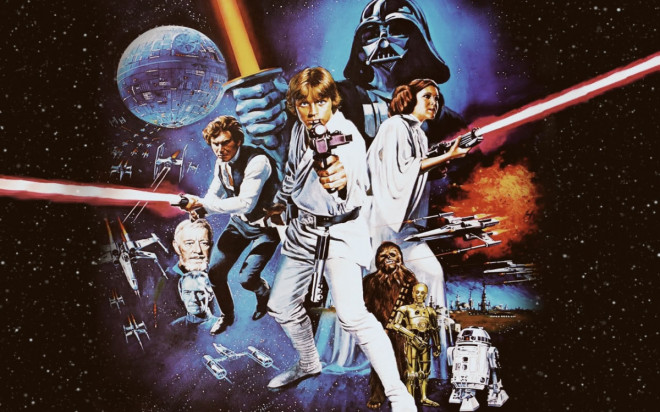 Box office analysts have predicted that JJ Abrams' Star Wars: Episode VII has a good chance of becoming the highest grossing movie of all time.
A report in the The Wrap, following the announcement of the film's cast, says it has a good chance of claiming $2 billion (£1.2bn) at the worldwide box office when it's released next Christmas.
BoxOffice.com Vice President and Senior Analyst Phil Contrino said: "The casting for this new film is perfect from a commercial standpoint.
"Bringing back the original cast is brilliant, because it cements the link with the franchise's incredible legacy, and so is going without A-list actors in the new roles, because it keeps the focus on the brand."
Original stars Mark Hamill, Carrie Fisher and Harrison Ford are set to return as Luke, Leia and Han alongside Peter Mayhew as Chewbacca, Kenny Baker as R2-D2 and Anthony Daniels as C-3PO. They'll be joined by newcomers John Boyega, Daisy Ridley, Adam Driver, Oscar Isaac and Domhnall Gleeson. Industry legends Andy Serkis and Max von Sydow have also been cast.
On the subject of Star Wars fans who vehemently defend the original films, Contrino was blunt: "It's a time-honoured tradition for fans of that series to complain about George Lucas and any number of other things surrounding the franchise — and then they go to see the movies five times."
He has a point.
Only two films have ever broken the $2 billion mark – Titanic with $2.7bn and Avatar with $2.1bn, both James Cameron pictures with enormous budgets. In April, Disney boss Alan Horn said the film would have a budget "in the neighbourhood of $175-200 million". So it can certainly compete there.
One advantage that Star Wars 7 has over James Cameron's films is that it's a sequel. Not just any sequel either, but one that will be 10 years in the making over the last film in the franchise and 32 years in the making in terms of its characters and plot – which will continue on from 1983's Return of the Jedi.
The negative reaction to George Lucas' 1999-2005 prequel trilogy may also help it. Star Wars is still a strong brand, and adults would love to see it reach the heights of the original films. Then there's the younger fans. Star Wars remains an incredibly strong brand even with kids who have never seen one of the films on its first run in the cinemas – they too will be hungry to see the new movie.
Star Wars: Episode VII is out 18 December 2015.