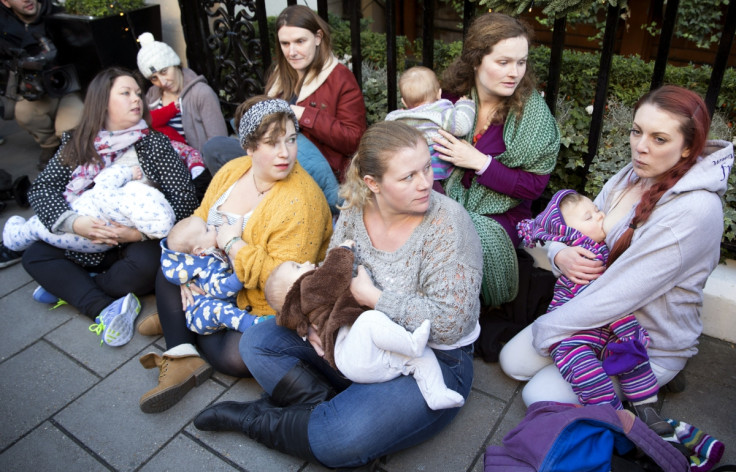 The UK government is urging women to breastfeed in public through a new campaign started by Public Health England. The Start4Life campaign is offering women NHS-approved advice and support on breastfeeding, as well as providing information to the public on how to support breastfeeding mothers.
While it is illegal to ask a breastfeeding woman to leave a public space, six out of 10 mothers who breastfeed still take steps to hide it in public. More than a third of mothers are reluctant to breastfeed in public, according to a recent poll conducted by Public Health England, with results also indicating that more than 20% of the British public do not want to see public breastfeeding.
"When I first tried breastfeeding in public, I was really self-conscious," said Natalie MacGregor, a mother who is supporting the Start4Life campaign. "It took until the birth of my second son to realise that I had nothing to be embarrassed about, and I just wish that I had realised this earlier."
MacGregor's experience of public breastfeeding will be featured in a series of short films published by the campaign, all of which share real-life experiences of mothers nurturing their children in public. The campaign hopes that the videos will raise awareness about the issue and, in turn, begin to break down the negative stigma.
Research conducted by the Start4Life campaign revealed that while 48% of UK adults believed women should always feel comfortable breastfeeding in public, only 44% agreed that it is acceptable to breastfeed anywhere.
"One of the great benefits of breastfeeding is that it can be done any time and anywhere," said Dr Ann Hoskins, deputy director of health and wellbeing at Public Health England. "So as a society we need to help new mothers feel comfortable in feeding their babies wherever and whenever they need to, and we all have a role to play in that."
The debate on breastfeeding in public spaces peaked in December 2014 when a woman was asked to cover her baby's head with a napkin as she breastfed him at a Claridge's hotel in London. A group of mothers staged a protest outside the Mayfair hotel following the incident, with 40 mothers breastfeeding their babies outside the hotel in a sign of defiance.
The protest was organised by the Free to Feed campaign, started by Emily Louise Slough who was targeted after a photograph appeared online of her breastfeeding her baby in a public space. The campaign is calling for a change in law to make it a criminal offence for people to discriminate against breastfeeding mothers.
"Worries about stigma and embarrassment around breastfeeding can lead to some women feeling unable or unwilling to breastfeed in public," said Dr Gill Thomson, from the Maternal and Infant Nutrition and Nurture Unit at the University of Central Lancashire. "This can lead to isolation and some women stopping breastfeeding before they are intended to."