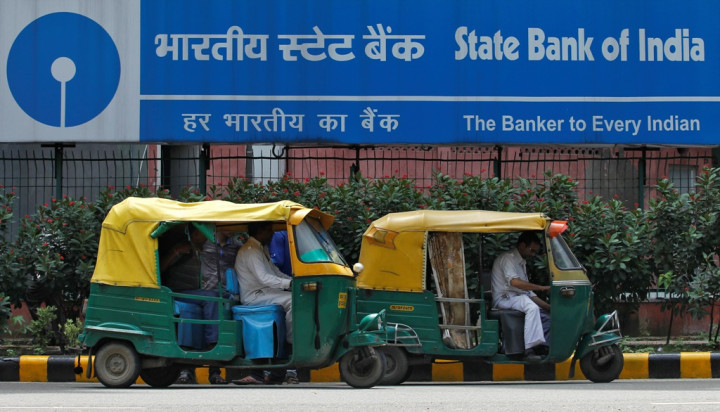 India's largest lender has reported its first profit increase in six quarters, on higher interest income, and has said that bad loans remained largely stable.
The State Bank of India (SBI), which accounts for some 25% of all loans and deposits in the subcontinent, said standalone net profit rose 3.3% on an annual basis to 33.49bn rupees ($547m, £325m, €409m) in its first-quarter to 30 June, meeting expectations.
Interest earned for the April-June quarter rose 15% from a year ago to 364.87bn rupees, the bank said.
Bad Loans
Net non-performing loans, as a percentage of total assets, stood at 2.66% during the April-June quarter, from 2.57% in the preceding three-month period.
Gross non-performing loans stood at 4.9% as against 4.95% in the January-March quarter, the bank added.
SBI's shares, valued at nearly $30bn, finished 0.90% lower, at 2,415.25 rupees (£23.47) in Mumbai, while the benchmark S&P BSE Sensex share average finished 1.02% lower at 25,329.14 points.
SBI's stock has jumped some 37% so far this year in a market that has risen some 20%.
Hold SBI
Pritesh Mehta, Senior Technical Analyst at IIFL told CNBC-TV18: "[SBI] is a good stock to begin. There could be volatility because of numbers in [8 August's] trade but as we have seen in bank Nifty over last couple of weeks SBI is going through a period of sideways corrections, which is quite normal because it is a stock which has seen a terrific rally right from Rs 1,500 to Rs 2,800 levels. So some kind of retracement is normal in this kind of heavyweight stock."
"Around Rs 2,300 this selling pressure could subside and the stock could resume a new journey altogether, which could take it beyond its earlier highs, so long term investors need to hold on," Mehta added.
SBI Chairman Arundhati Bhattacharya told Bloomberg in July that the bank was considering share sales in its insurance and asset-management divisions to raise funds. SBI needs over 800bn rupees of additional equity capital, by 2019, to satisfy Basel requirements.
SBI, which is nearly 59% owned by the Indian government, has pledged to improve scrutiny of bad loans through regular reviews and the use of technology.