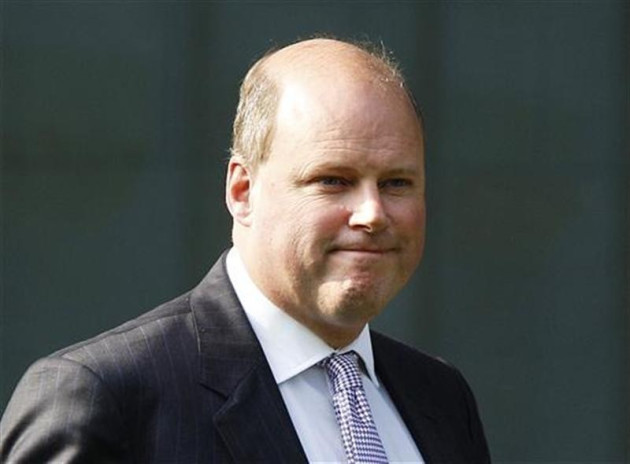 Stephen Hester has announced his decision to resign as chief executive of RBS after five years.
Hester, who joined in November 2008, will leave his post later this year and receive a £1.6m pay-off - equivalent to 12 months' salary plus benefits.
The 52-year-old was appointed chief executive in the wake of RBS' government bailout. Since then he has been subjected to concerted criticism, with many attacking his high bonuses and perceived inability to arrest the bank's slide.
RBS said that his resignation would facilitate an orderly process of succession, and his replacement would have plenty of time to prepare for the role.
"Stephen was unable to make that open-ended commitment following five years in the job already," the bank said.
Hester issued his own statement, highlighting the work he has done to reduce RBS's losses and reimburse the taxpayer.
"It has been nearly five years since I joined RBS... in that time we have reduced the bank's balance sheet by nearly a trillion pounds, repaid hundreds of billions of taxpayer support, and removed the imminent threat that this bank's size and complexity posed to the UK economy.
"We are now in a position where the government can begin to prepare for privatising RBS. While leading that process would be the end of an incredible chapter for me, ideally for the company it should be led by someone at the beginning of their journey."
RBS chairman Sir Philip Hampton summoned a meeting of the bank's non-executive directors in May, telling them he was drawing up a list of prospective replacements.
The list includes Richard Meddings, the finance director of Standard Chartered, according to sources close to the talks. It is not known whether any candidates have yet been approached.
Other names in circulation include Nathan Bostock, RBS' restructuring boss who will be taking over as finance director in October.
Bostock is believed to be the leading internal candidate and is joined on the list by outsiders including National Australia Bank chief executive Cameron Clyne.
Chancellor George Osborne said: "When Stephen Hester took on the job it was a bust bank with a broken culture and posed a huge risk to financial stability. RBS today is safer, stronger and better able to support its customers.
"I want to commend Stephen Hester for everything he has done to make this turnaround possible. The size and complexity of the bank has been significantly reduced, with a far greater focus on serving its UK customers.
"Stephen Hester has made an important contribution to Britain's recovery from the financial crisis.
"Having brought RBS back from the brink, now is the time to move on from the rescue phase to focus on RBS being a UK bank that provides greater support to the British economy, helping businesses and job creation here, and which can return to the private sector in a way that ensures value for the taxpayer."