A memorial for to Steve Jobs was held at Apple's Cupertino headquarters yesterday, with CEO Tim Cook among speakers who addressed a mass of employees.
The service, which included words from Al Gore and music by Coldplay, was broadcasted to Apple stores all over the world, where white sheets were erected to cover windows, allowing staff to watch the event, causing stores to close for three hours.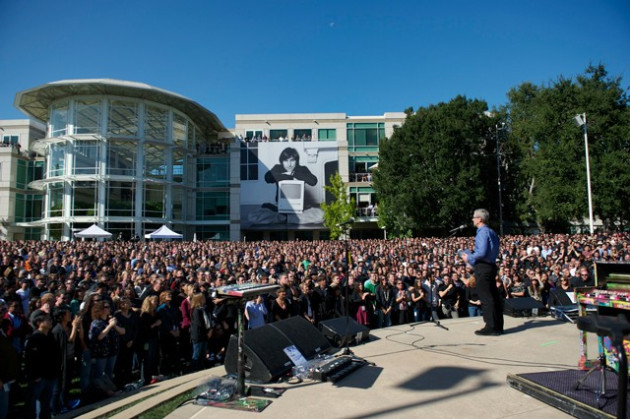 Although not open to the public, the service was tweeted about by attendees afterwards, with @tylerstone saying: "Wonderful speech by Tim. Wonderful speech by Bill Campbell. Wonderful performance by Norah Jones. This really helps bring closure."
In a tweets found by MacRumors, @xtian666 said: "An incredible and fitting celebration. Tears, laughter and some closure," and @larley tweeted: "That was a really moving ceremony. Norah Jones, Coldplay, Al Gore...Got choked up when they played Steve reading "Here's to the Crazy Ones".
In an interesting move, Apple broadcasted the ceremony to all of its high street stores over the world, with employees covering the shop windows with white sheets for privacy. The stores were closed for three hours during the memorial.
It is not yet known if Apple will publish a video of the ceremony to download, but with taking the effort to close shops and cover the windows suggests that this was always intended to be a private event for Apple staff only.