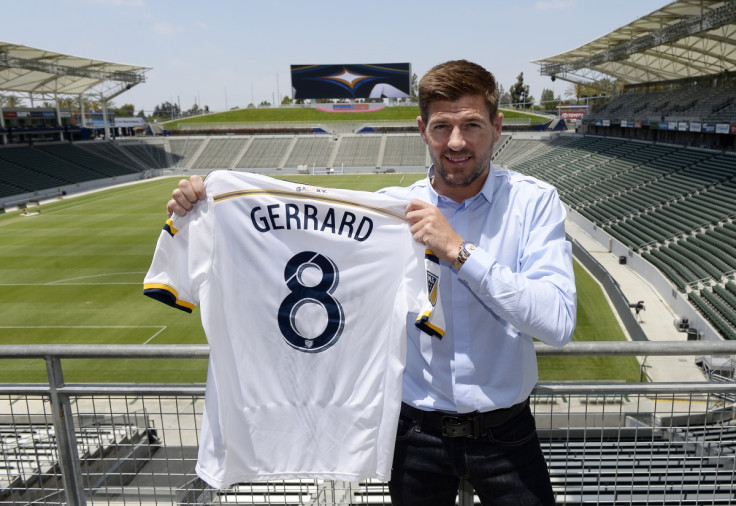 Steven Gerrard has revealed the offer of a coaching role would likely have seen him extend his stay at Liverpool into an 18th season. The former England captain departed Anfield for the sunnier climes of Los Angeles in the summer but would have relished the opportunity to learn from manager Brendan Rodgers while continuing to act as a useful squad player.
Gerrard has previously admitted his move to Major League Soccer (MLS) may not have come to pass had he been offered a new contract before a disappointing 2014-15 campaign rather than in the autumn, while Reds chief executive Ian Ayre confirmed the club did eventually make a "substantial offer" to convince the player into staying on Merseyside. Such a late attempt ultimately proved in vain, though, with an 18-month deal to join the LA Galaxy signed in January.
The 35-year-old's storied tenure at Liverpool finished on something of a sour note with consecutive defeats to Crystal Palace and Stoke City eventually seeing Rodgers's side finish sixth in the Premier League. That disappointing end to the season saw the manager come under intense pressure from supporters, but he was eventually spared by owners Fenway Sports Group (FSG) and instead instigated an overhaul of his backroom staff leading to the departures of assistant Colin Pascoe and first-team coach Mike Marsh.
Sean O'Driscoll and Pep Lijnders were eventually appointed as replacements, although Gerrard clearly believes he would have been ideally suited to a backroom position that could have been combined with his first-team duties.
"I might be contradicting myself here but what would have kept me at Liverpool into this season was the chance of shadowing Brendan Rodgers and his staff as well as playing," he told The Mail. "Those ideas were only mentioned to me after I had announced I was leaving. I don't know if I am going to be good enough to be a manager, or a No 1, No 2, No 3 or No 4.
"Liverpool replaced coaches Colin Pascoe and Mike Marsh in the summer, so they were looking for a new No 2, or No 3 or No 4. I would have been tailor-made to fill one of these roles, as well as making myself available as a squad player. I could have been a good squad player, a good sub, as well as getting management experience that money can't buy."
Gerrard's departure from Liverpool was entirely amicable and it was clear that the decision to leave the only club he had ever known had been a difficult one. Despite parting on positive terms, though, it appears he was surprised the offer to coach was not mentioned while he was still there.
He said: "I was surprised a role wasn't mentioned when chief executive Ian Ayre sat down with my agent but maybe it might happen one day. I'd have stayed on as a squad player if I'd had the chance to learn more about management or coaching. I left with all the doors still open, but yes, I could still have been at Liverpool now."
With an offer to train with his former teammates already on the table, a potential return to Liverpool on loan during the American off-season looked almost a certainty for Gerrard. However, earlier in September, league commissioner Don Garber cast doubt upon that switch as he predicted a gradual end to the tradition of high-profile MLS stars playing in Europe during the winter.