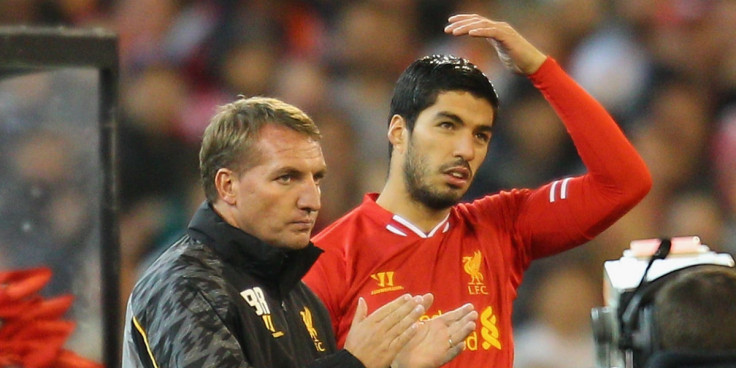 Harry Redknapp believes Liverpool will fail again to make the top four this season because Brendan Rodgers lost the four players – Luis Suarez, Steven Gerrard, Raheem Sterling and Daniel Sturridge – who almost led them to the Premier League title in the 2013-14 campaign. The former Tottenham and QPR boss was talking ahead of the Merseysiders tip to Manchester on Saturday after some fans hit back at him last week when he claimed Rodgers' side was "bang average" and "the worst Liverpool side" he had seen in years.
The Premier League giants ended just two points behind champions Manchester City two seasons ago after Suarez and Sturridge scored 33 and 28 goal each. Gerrard, meanwhile, enjoyed an impressive campaign playing as a holder with Sterling's breakthrough into the team as one of most promising talents around.
But following the Uruguay international's move to Barcelona in the summer of 2014 and with Sturridge missing much of the season due to injuries, Liverpool ended the last campaign in a disappointing sixth place. Rodgers has strengthened the squad during the summer to avoid another failure but Redknapp believes that the Merseysiders are condemned to another season worth forgeting following the double departure of Gerrard to the MLS and Sterling to Manchester City.
"Two years ago I thought they deserved to win the league, they were that good. But since then they've lost their four best players. Luis Suarez, Raheem Sterling and Steven Gerrard have moved on and Daniel Sturridge has been injured. I cannot think of any club or manager who could cope with that," Redknapp wrote on Kicca even though the England international striker is expected to return to action soon. "It's not Brendan's fault he's lost the backbone of that great side he had 18 months ago, I feel for him. I just think they've got a tough task to make it to the Champions League spots, that's all. I sincerely hope I'm wrong, though. In the end we'll see."
The former Tottenham boss says that he has a great affection for the Merseysiders and their manager but reiterates this Liverpool side is the worst he has seen in years.
"I got a bit of stick last week for saying I thought Liverpool were going to struggle to make the top four this season and that this is the worst Liverpool side for a few years," he added. "It wasn't meant as a dig as I am a big fan of both the club and Brendan Rodgers. If I could have a season ticket at one club it would be at Anfield. I love the atmosphere there and the football the Reds play. I was simply giving an honest answer to a simple question."