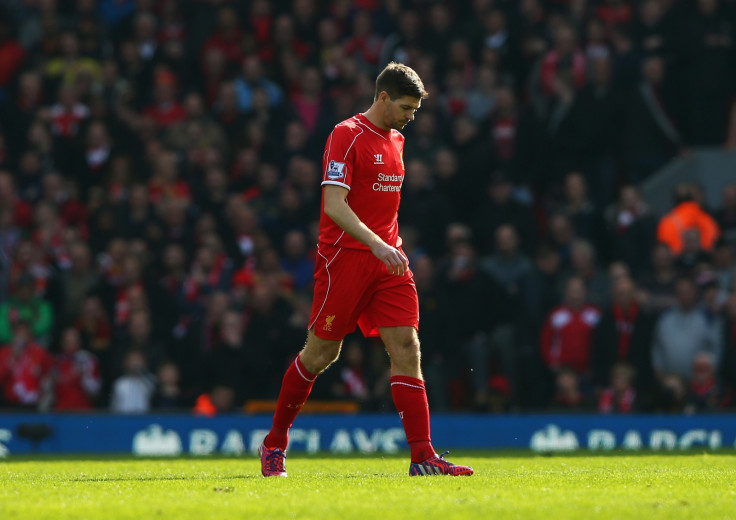 Jamie Carragher claims Steven Gerrard's sending off during Liverpool's 2-1 defeat to Manchester United at Anfield was down to the midfielder's frustration for being benched.
The former England international replaced Adam Lallana after the break and was shown a straight red for stamping on Ander Herrera. He was on the pitch for just 38 seconds, before referee Martin Atkinson gave him the marching orders.
Gerrard returned from injury and he was benched during the Reds' 1-0 victory over Swansea City last Monday. He was once again benched by Brendan Rodgers for the crucial clash against United, which was his last match against the Old Trafford club in a Liverpool shirt.
"There's no doubt that not playing at Swansea and then not playing this game would be a frustration," Carragher told Sky Sports.
"He's been at Liverpool 17, 18 years, he's always been the man, the captain, there's never been a case where he's been out of the team and as soon as he's fit he goes straight back in the team."
"This is the first time I think, last week at Swansea and today, that hasn't happened, so there'll be frustration there.
"Watching the first half from the bench he'd have been disappointed, Liverpool weren't playing well, they were losing 1-0.
"But there would have been more frustration. I think he'd have been watching players in his position performing not great and thinking, 'Why am I not playing, why am I not on that pitch?'"
"It's a straight red there's no arguments with that. You can't do that on a football pitch, he's been rightly given his marching orders," the Anfield favourite stressed.
Carragher's words were echoed by Rodgers after the Northern Irishman admitted that Gerrard's sending off was down to the player's frustration.
"Steven gave an apology to the players and himself, it was probably frustration, he's an honest guy, very competitive and probably frustrated at the first half watching us. He's come on and unfortunately got sent off," Rodgers explained.
Liverpool next face Arsenal and Rodgers has to do without the services of his skipper when his side make a trip to the Emirates after the international break.