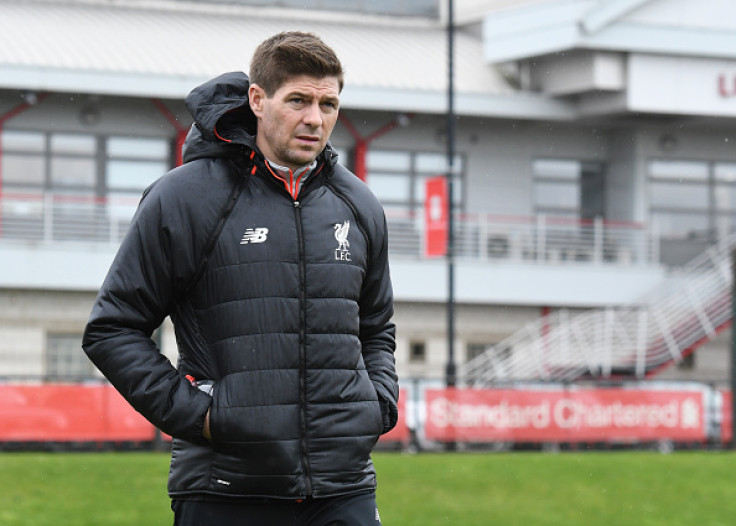 Steven Gerrard is set to take the next step forward in his managerial career as he takes charge of Liverpool's under-18 team next season.
According to The Times, the former Liverpool captain will manage the age group from the start of the 2017-2018 season after being promoted from his floating role as an academy coach.
Gerrard left Liverpool in 2015 after an 18-year spell with his boyhood club that saw him win the Champions League, two FA Cups and three league cups.
It did not take the Kop legend long to return as after two seasons with the LA Galaxy, Gerrard returned to Liverpool as an academy coach in January 2017, rejecting the chance to manage MK Dons in the process.
"It feels like completing the circle; returning to the place where professionally it all began," Gerrard said upon his return, as quoted on ESPN. "However, this isn't a decision based on emotion -- it's about what I can offer and contribute to Liverpool."
"I don't think I need to explain to people what this football club means to me, but when I knew coming back was a serious option I wanted to make sure it was a substantive role and a role in which I could really help the organisation.
"This gives me a great opportunity to learn and develop as a coach, while at the same time offering my knowledge, ideas and experience to the young players at an important period of their development."
Having been promoted from an academy coach to the under-18 manager in just over three months, it is being reported that the 36-year-old has impressed everyone with his "work ethic, knowledge and attitude" since returning to the club.
Liverpool manager Jürgen Klopp and academy director Alex Inglethorpe also believe Gerrard's promotion will "speed up his development, bringing responsibility and also the pressure of overseeing the fortunes of a dedicated team in the under-18 Premier League."
Neil Critchley is currently in charge of the Liverpool under-18 side.