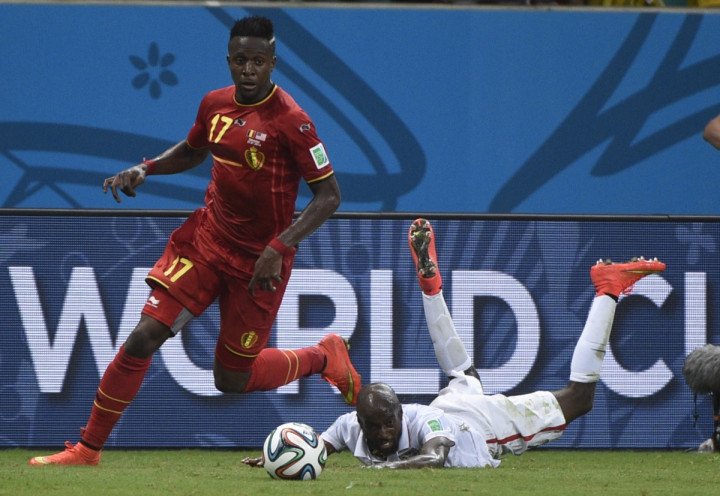 Liverpool skipper Steven Gerrard had hoped the club's new signing Divock Origi would join his squad this summer after completing his move to Anfield.
Origi, 19, rose to prominence during Belgium's World Cup campaign where his impressive performances leading the line alerted a number of European clubs.
But despite interest from Tottenham Hotspur and La Liga champions Atletico Madrid, the striker opted for Merseyside before immediately being loaned back to Lille for the 2014/15 season.
But with a void left up front following Luis Suarez's departure from Liverpool Origi has revealed Gerrard was keen to see the Belgian join up with the Reds straight away, after Brendan Rodgers told him of the high hopes the club has for him.
"He [Rodgers] wants me to become one of the best players in the world," Origi stold L'Equipe. "What I have experienced so far is amazing. Liverpool wanted me immediately, but I still have to work. I have been welcomed in the Belgium team. I became friends with Adnan Januzaj.
"The World Cup was amazing for me with that goal scored at the Maracana. And then Liverpool, when I joined Liverpool I was impressed. Steven Gerrard told me it was a shame I could not be here immediately and they were expecting me with patience."
While his performances in Brazil elevated his profile, Rodgers has insisted that Origi was a long-term target for the club, having tracked his progression in Ligue 1, something that came as a surprise to the player.
"Liverpool followed me for a long time," he said. "When I was in the offices, they showed me my caps when I was under 15. Everyone knows me, I could not believe it."
After helping Lille ensure qualification for the qualifying rounds of the knock-out stages of the Champions League last season, Origi's focus remains on the Ligue 1 club for the time being.
"I am at Lille and only that matters for now. Last season I scored in my very first match in Le Championnat before leaving the first team a bit later, which pushed me to work harder.
"I want to play a lot of matches, adapt more to the team and discover the European Cup."