Steven Woolfe excluded from UKIP leadership race as party descends into civil war
Three members of the NEC resign in protest as Woolfe's supporters accuse other party members of a 'coup'.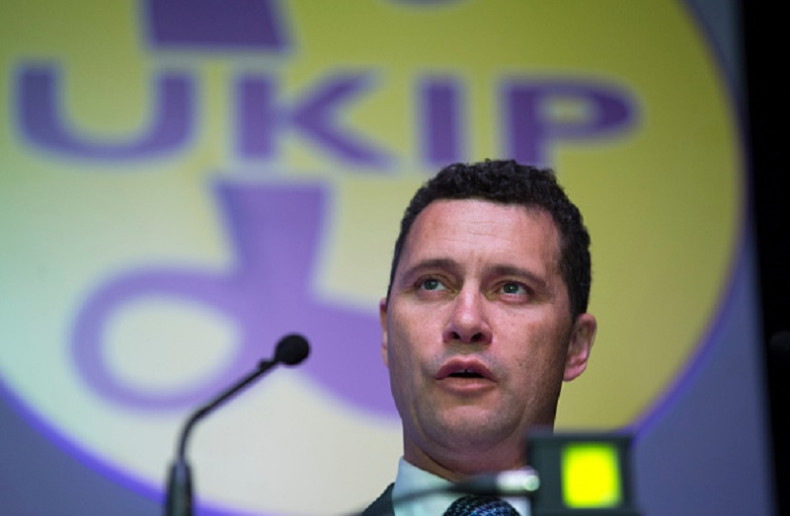 Steven Woolfe has been excluded from the contest to replace Nigel Farage as Ukip's next leader, prompting three members of the party's National Executive Committee (NEC) to resign in protest.
The NEC said it had voted by "a clear majority" that Woolfe should not be able to run as his application was "ineligible as a result of a late submission".
Woolfe had blamed technical issues with Ukip's application system for missing the deadline on Sunday (31 July) by 17 minutes.
He said in a statement he was "extremely disappointed" by the decision to exclude him from the leadership contest, adding: "Over the course of this leadership election, the NEC has proven it is not fit for purpose and it confirmed many member's fears that it is neither effective nor professional in the way it governs the party."
The final ballot of contestants features MEPs Bill Etheridge, Diane James and Jonathan Arnott, along with councillor Lisa Duffy and activists Elizabeth Jones and Phillip Broughton. The winner will be announced on 15 September.
The decision to exclude Woolfe has led to accusations from his supporters of a "coup", with three members of the NEC resigning in protest.
Victoria Ayling, Raymond Finch and Michael McGough said in a joint statement the NEC is "no longer fit for purpose" and called for a vote of no confidence in the body.
They accused other members of "placing personal ambitions, loyalties and jealousies at the heart of their decision-making", adding that the party had been taken over by "oligarchy, self-promotion and cronyism".
They added: "Steven Woolfe is a popular candidate among Ukip's members and should be permitted to represent those that wish to vote for him. To purposefully trawl for technicalities upon which to base a decision to deny his inclusion is not in the best interests of the membership and truly injurious to Ukip."
Ukip civil war
Ukip leadership hopeful Diane James has been named 1/3 favourite by bookmakers Ladbrokes to win the contest.
But the decision to keep Woolfe, the previous favourite, off the ballot is likely to plunge the party into further in-fighting and could risk a protracted civil war. Woolfe had the backing of both Farage and Ukip's main donor, Arron Banks.
Ayling and Banks had already accused NEC member, and Ukip's only MP, Douglas Carswell and ex-Tory Neil Hamilton of orchestrating a campaign to keep Woolfe off the ballot.
Banks said he was looking into launching an Extraordinary General Meeting (EGM) to prevent the leadership contest going ahead without Woolfe on the ticket. He said it would require 20 branches to call for an EGM.
Farage has also launched a series of attacks on the NEC, saying it was a "barrier to radical change and modernisation" in the party, and describing some of its members as "among the lowest grade of people I have ever met".
In the run-up to the NEC vote, he said: "I've been fought every step of the way by total amateurs who come to London once a month to attend NEC meetings that normally last seven hours. The new leader of Ukip should bypass the vanity of such people & make big decisions about Ukip's future via direct polling of the membership."
Woolfe said in a statement: "I am extremely disappointed by the Ukip NEC decision to exclude me from the party's leadership election.
"Having been a committed member of Ukip, standing for the party in multiple elections, acting as a spokesman at the highest level, I wanted to take this opportunity to stand for leader to inject my ideas, plans and passion into the party.
"Over the course of this leadership election, the NEC has proven it is not fit for purpose and it confirmed many member's fears that it is neither effective nor professional in the way it governs the party.
"They have failed to accept that there were serious issues with the application system despite providing evidence that attempts of submission were made before the deadline. The NEC deny this is the fault of the Ukip system."
He added: "Although I am out of the contest I wish the other candidates well and hope they can show Ukip has a positive, inclusive, patriotic vision for Britain."