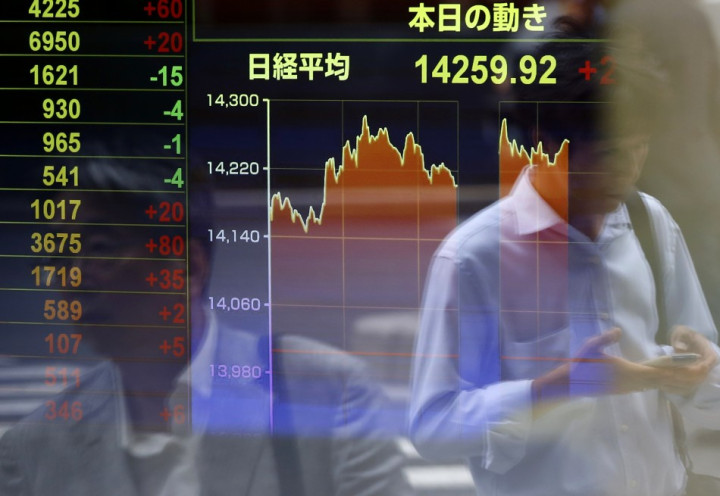 Stock markets across Asia finished the week higher. The Japanese Nikkei led the pack, while South Korea's Kospi trailed.
Asian markets opened lower at the beginning of the week as Japanese stocks dropped to four-week lows, after being dragged down by a stronger yen and concerns surrounding China's economic growth.
Government data from China showed that Chinese industrial profits rose 6.3% in June from a year ago. This compared with a 15.5% rise in profits in May. China is Japan's second-largest export market.
Most markets opened higher on 30 July on news that China's central bank had injected funds into the money markets, a first since February. However, market participants exercised caution ahead of the US Federal Reserve's policy decision.
The Nikkei finished higher despite data from Japan showing that industrial production declined for the first time in five months in June. Household spending in Asia's third largest economy fell 0.4% from a year earlier, while analysts had expected a growth of 1.0%.
Korean markets finished higher after government data showed that factory output bounced back 0.4% in June from the previous month. However, output fell 2.6% on an annual basis in June.
Markets were mixed on 31 July, as operators adopted a wait-and-see approach ahead of the US Federal Reserve's monetary policy announcement due later that day.
In China, property and construction-related stocks gained on news that the Communist Party's politburo has vowed to keep economic growth steady in the second half of 2013, despite what it said were "extremely complicated domestic and international conditions".
The Xinhua report, which carried the statement, did not, however, state the growth level that the politburo would defend. The politburo's message "could be interpreted that the new leadership has no intention to take further measures to restrict home demand and tighten financing of the property sector", Bank of America Merrill Lynch commented.
Markets gained on 1 August after China reported better-than-expected factory activity and the US Federal Reserve said it would continue with its $85bn a month bond-buying programme.
Sentiments were also boosted by data from the US, which showed the world's top economy grew faster-than-expected in the second quarter.
In China, two separate surveys on China's manufacturing sector indicated mixed activity for the month of July, amid rising concerns about continued slowdown in the economy.
The government's Purchasing Managers' Index (PMI) unexpectedly rose to 50.3 in July from 50.1 in June. Meanwhile, the HSBC PMI showed a contraction for the third straight month, declining to 47.7 in July from 48.2 in June.
In the US, a Fed statement refrained from giving hints as to when the planned reduction in its asset buys would take place.
The statement, released after a two-day meeting of the Fed's policy making committee, said that the US economy was expanding at a "modest" pace - a change from the "moderate" pace seen in June.
Government data showed that world's leading economy expanded 1.7% in the second quarter, beating expectations of a 1% expansion.
Economists expect the Fed to reduce its bond buys after the mid-September FOMC meeting.
Markets rose on the final trading day, extending the previous day's strong gains, after sentiments were boosted by upbeat US and European economic data and a pledge to ease monetary policy from global central banks.
In the US, data from a survey showed that manufacturing in July grew at its fastest pace in two years. This suggests that growth in the world's top economy would pick up speed in the second half of 2013.
Data from the eurozone showed that manufacturing activity grew for the first time in two years during July, hinting that the region might come out of recession this quarter.
In the UK, manufacturing output during July soared to its highest level since February 2011, building on months of gathering momentum as the country's economy heals.
Meanwhile the Bank of England (BoE) and the European Central Bank (ECB) both left interest rates at a record low of 0.5%, a day after the Federal Reserve said that the US economy still needed its support.
Market Movements
The Japanese Nikkei finished 4.34 % higher to 14,466.16.
The Shanghai Composite ended 1.97% higher to 2,029.42.
Hong Kong's Hang Seng closed 1.51% higher to 22,190.97.
Australia's S&P/ASX 200 ended 1.34% higher to 5,116.80.
South Korea's Kospi finished 0.69% higher to 1,923.38.
The Week Ahead
The week ahead will see China put out monthly and annual inflation data. Market participants will also be tracking annual retail sales data, industrial production data and fixed asset investment data from China.
China's services sector picked up in July despite weakness in the manufacturing sector, a sign that the country's recently introduced stimulus measures for small firms seem to be working.
Beijing wants to steer the world's second largest economy towards domestic consumption and demand and away from its dependence on manufacturing and exports. However, China is treading with caution, when it comes to radical reforms, as the world's second largest economy posted lower-than expected economic growth data.
Japan will put out its current account data that measures the difference in value between exported and imported goods, services and interest payments for the reported month.
India will release bank loan growth data, which measures the change in the total value of outstanding bank loans issued to businesses and consumers.
South Korea will put out M2 data. M2, a narrow measure of money supply, gauges the change in the total quantity of domestic currency in circulation and deposited in banks.
Australia will announce its interest rate decision. Economists predict the Reserve Bank of Australia (RBA) will lower its official interest rate to 2.50%. It has maintained the cash rate at a historic low of 2.75% for a while.
The Australian government will also put out trade balance data, alongside quarterly House Price Index (HPI) data. The HPI measures the change in the selling price of homes in the nation's eight state capitals.
The government will also release monthly home loan disbursal data, alongside key labour market figures.
New Zealand will release a raft of labour market data including the unemployment rate and the quarterly labour cost index.