Asian Markets Outside Australia Rise on Upbeat China Data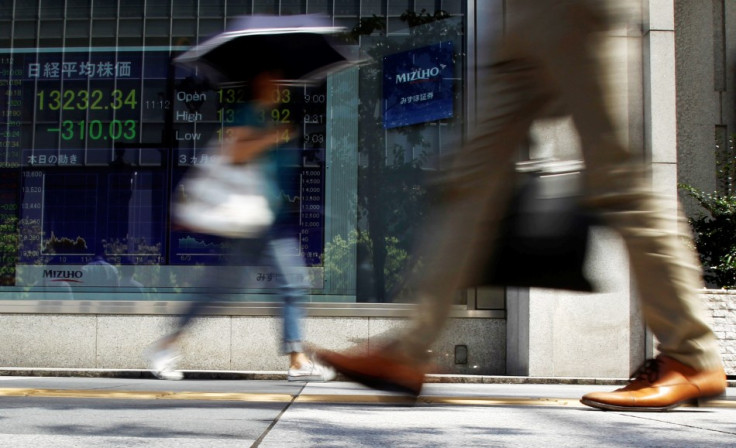 Asian markets outside Australia traded higher on 8 October after data showed that China's services industry continued to expand in September, albeit at a slower pace.
However market players treaded with caution amid fears of a US debt default.
The Japanese Nikkei finished 0.30% higher or 41.29 points at 13,894.61.
Australia's S&P/ASX finished 0.23% lower or 11.70 points at 5,149.40.
South Korea's Kospi finished 0.42% higher or 8.34 points at 2,022.76.
The Shanghai Composite was trading 0.93% higher or 20.29 points to 2194.96.
Hong Kong's Hang Seng was trading 0.94% higher or 215.99 points to 23,189.94.
India's BSE Sensex was trading 0.49% higher or 98.23 points to 19,993.33.
Market players continued tracking developments in Washington, where the government shutdown will enter its second week on 8 October.
On 7 October, US President Barack Obama said he would accept a short-term increase in the government's borrowing limit to avoid a credit default. This would buy the Democrats more time to negotiate a long-term solution with the Republicans.
The world's largest economy will run out of cash to pay its bills on 17 October if the government's borrowing limit is not raised. The country's laws limit its borrowing to $16.7tn (£10.4tn, €12.3tn). Market analysts say that the Treasury would probably not be able to pay its bills if the ceiling is not raised.
In mainland China, financial markets resumed trading after the Golden Week holidays.
The Markit-HSBC China services purchasing manager's index (PMI) dipped to 52.4 in September, from August's 52.8. However, the September reading remains well above the neutral 50-mark that separates expansion from contraction. A rise in new business compensated for the slowdown in new orders, according to the survey.
In Japan, government data showed that the country's current account surplus for August stood at 161.5bn yen, below economists' expectations.
Elsewhere, in India, the country's central bank unexpectedly cut a benchmark interest rate in a bid to improve liquidity in the financial market, reversing from its earlier tightening measures in line with the rupee's weakness.
The Reserve Bank of India (RBI) lowered the marginal standing facility (MSF) rate - the rate at which scheduled banks borrow funds overnight from the RBI against government securities - by 50 basis points to 9%. The news boosted Indian stocks.
"There was no bad news over the National Day holiday week, so [Chinese] stocks are turning slightly higher," Tang Yonggang, analyst with Hongyuan Securities told Marketwatch.
However, "it's a pretty fickle market out there at the moment," Shane Oliver, head of investment strategy at AMP Capital told CNBC. "Markets are going to remain quite volatile" amid the US budget discussions.
Wall Street Down
On Wall Street, indices ended lower as the US government shutdown entered its second week.
The Dow finished 136.34 points lower at 14,936.24, dropping to a four-week low.
The S&P 500 closed 14.38 points lower at 1,676.12, while the Nasdaq ended 37.38 points lower at 3,770.38.
The CBOE Volatility Index (VIX), broadly considered the best gauge of fear in the market, jumped more than 13% to trade near 19, hitting a new three-month high.
Company Stock Movements
In Tokyo, Subaru-maker Fuji Heavy Industries shot up 2.5% on a Nikkei newspaper report that it would develop a hybrid sport-utility vehicle with rival automaker Toyota.
A stronger Japanese yen weighed on exporters' stocks. Sony was down 2.7% while automaker Toyota shed 0.7%.
Japan Airlines dropped 1.6% after gaining 3% in the previous trading session. The carrier said on 7 October that it would purchase aircraft from France's Airbus, a move that breaks US-based Boeing's domination of the Japanese market.
Loss-making consumer electronics firm Sharp lost 1.4% on equity dilution concerns. On 7 October, the company said it had fixed the price of its new share-sale at ¥279 a share, enabling it to raise about ¥136.6bn ($1.4bn) - or ¥30bn less than originally planned.
In Shanghai, Xiamen Savings Environmental, which makes filtration products, surged 8.1%. Waste-water-treatment firm Sound Environmental Resources jumped 5.2%.
Severe smog over Beijing last weekend fuelled expectations for new government measures to tackle pollution.
In Hong Kong, Esprit jumped 7.0%.
Casino operator Sands China gained 1.3% while rival SJM Holdings inched up 0.7%. Barclays said that gaming revenue in Macau shot up 38% year-on-year during the Golden Week holidays.
In Mumbai, Yes Bank jumped 5.21% while Axis Bank inched up 0.81% after the Reserve Bank of India cut a benchmark interest rate.
In Australia, Warrnambool Cheese shot up 11.2% to A$7.18 after its board recommended that stockholders accept a A$7.00 a share buyout offer from Canadian dairy firm Saputo.
Gold miner Newcrest Mining lost 2.3%.
© Copyright IBTimes 2023. All rights reserved.