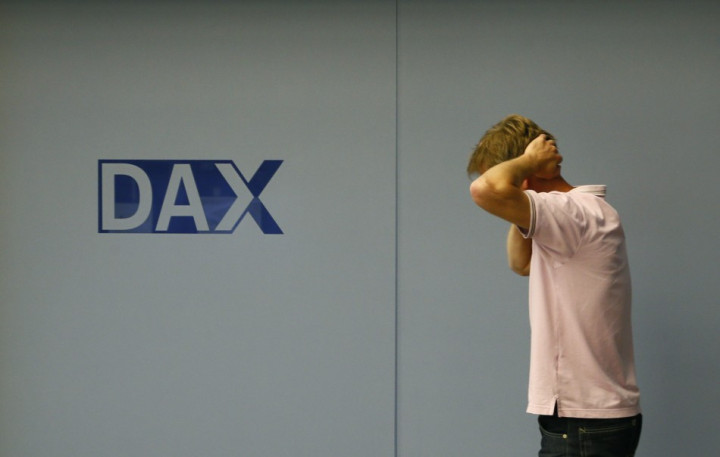 European markets opened lower on 9 October, and markets outside Spain and Italy continued trading lower, amid worries that the ongoing US political gridlock could force the country to default on its debt obligations.
The Stoxx Europe 600 index opened 0.2% lower to 306.18.
Britain's FTSE 100 and France's CAC 40 opened 0.3% lower.
Germany's DAX 30 opened 0.2% lower.
Italy's FTSE MIB was trading 0.10% lower.
Spain's IBEX 35 was trading 0.27% higher.
The US government shutdown will enter its ninth day on 9 October and Congress has nine days to decide on whether to raise the US debt limit.
The world's largest economy will run out of cash to pay its bills on 17 October if the government's borrowing limit is not raised. The country's laws limit its borrowing to $16.7tn (£10.4tn, €12.3tn).
Speaking at a news conference US President Barack Obama urged House Republicans to approve the US budget and raise the government's borrowing limit.
Obama made it clear that discussions were possible only after the two disputes were solved.
"Let's stop the excuses. Let's take a vote in the House," Obama said on 8 October.
"I'm ready to head up to the Hill and try.
"I'll even spring for dinner again. But I'm not going to do it until the more extreme parts of the Republican Party stop forcing John Boehner to issue threats about our economy."
Obama's decision to name Janet Yellen as the next chairman of the Federal Reserve failed to boost investor sentiment in Europe on 9 October - she is widely expected to continue outgoing Fed chief Ben Bernanke's pro-growth policies.
Obama is expected to introduce Yellen on 9 October, at a 1500 ET ceremony at the White House. Yellen serves as vice chairman of the world's most powerful central bank.
Market players in Europe will be tracking the NIESR GDP estimate.
The UK will put out industrial production data for the month of August, alongside total trade balance data for the same month. Germany, Europe's strongest economy, too will put out industrial production numbers for August.
In company news, BlackRock Greater Europe Investment Trust will put out its annual earnings update later in the day.
India-focused miner Vedanta Resources said its average oil & gas production hit a record high in the second quarter. Production rose 3% to 213,299 barrels of oil equivalent per day (boepd) from 207,245 boepd a year ago.
In the US, the Fed will release the minutes of its September 17-18 FOMC meeting later in the day.
"Since [the Fed's September meet], the government has partially shut down, and the uncertainty on the debt-ceiling deadline has risen further. This should keep the Fed even more cautious when it meets on 29-30 October. We expect QE tapering not to happen before March 2014," Standard Chartered said in a note to clients.
In Asia and the US
In Asia, the Japanese Nikkei finished 1.03% higher on 9 October, while Australia's S&P/ASX closed 0.07% higher.
Financial markets in South Korea were closed for a public holiday.
Earlier in Asia, markets outside Hong Kong traded higher as market players welcomed Obama's decision to name Yellen as the next chairman of the Federal Reserve.
On Wall Street, indices ended lower on 8 October amid the ongoing political stalemate in Washington.
The Dow finished 159.71 points lower or 1.07% at 14,776.53. The S&P 500 closed 20.67 points lower or 1.23% at 1,655.45 while the Nasdaq ended 75.54 points lower or 2% at 3,694.83.
The CBOE Volatility Index (VIX), broadly considered the best measure of fear in the market, jumped above 20. The index has shot up by about 23% in October alone.