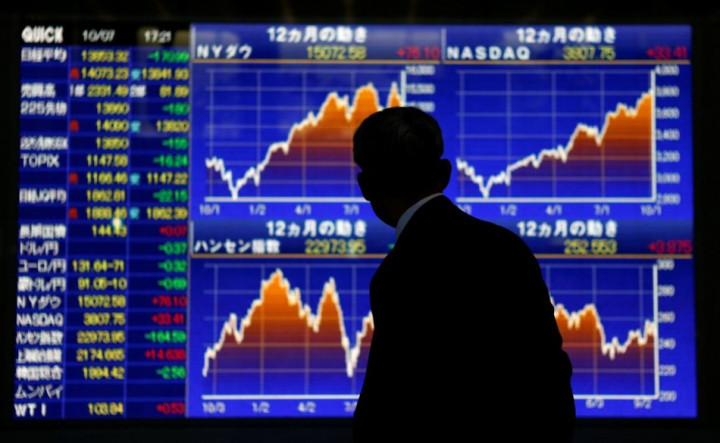 Japanese stocks struck a one-week high and the US dollar strengthened on 10 October amid anticipation that US lawmakers will resolve the fiscal stalemate before the 17 October debt-ceiling deadline passes.
The benchmark Nikkei share average gained 0.9% to its highest point since the middle of last week, just as stocks elsewhere in Asia were pulled down by fears the US could default on its debt obligations.
Likewise, the Dow moved 1.3% higher, the Dax was up 2% and in London the FTSE saw rises of 1.5%.
The US dollar gained 0.4% at 97.785 yen, extending the previous session's 0.5% increase, Reuters data showed.
The US government shutdown entered its tenth day on 10 October and Congress has eight days to decide whether to raise the US debt limit.
The world's largest economy could run out of cash to pay its bills after 17 October if the government's borrowing limit is not raised. The country's laws limit its borrowing to $16.7tn (£10.4tn, €12.3tn).
Republicans could agree to a short-term increase in the government's borrowing authority, buying more time for negotiations with the Democrats on wider policy measures, reported Reuters.
US President Barack Obama is due to meet Republicans on 10 October. Any move could help keep the government chugging beyond 17 October.
"It's a step forward for the market to resume risk-taking, though we are not too optimistic," Isao Kubo, an equity strategist at Japan's Nissay Asset Management told the news agency.
"Investors are cautiously buying back."
"Contrary to our expectations the USD has actually edged higher over recent days shaking off some [of] the pressure associated with the budget impasse in the US. News that President Obama will meet around 20 senior Republicans from the House following a similar meeting with Democrats highlights progress of sorts, with hints of compromise in the air," Credit Agricole CIB said in a note to clients.
There are various estimates as to when the US government could run out of money. Economists at JPMorgan provided a precise date of 24 October, an article in Time.com pointed out.
The Bipartisan Policy Center expects the date to be anywhere between 22 October and 1 November.
As the crisis in Washington unfolded, Japanese investors sold a record $23bn worth of foreign bonds on a net basis in the week ended 5 October.
This "suggests that a reversal may be likely, as this scale of selling of foreign bonds is unprecedented and may well lead to renewed foreign bond purchases by Japanese investors if and when the U.S. fiscal crisis is resolved," Societe Generale said in a note to clients.