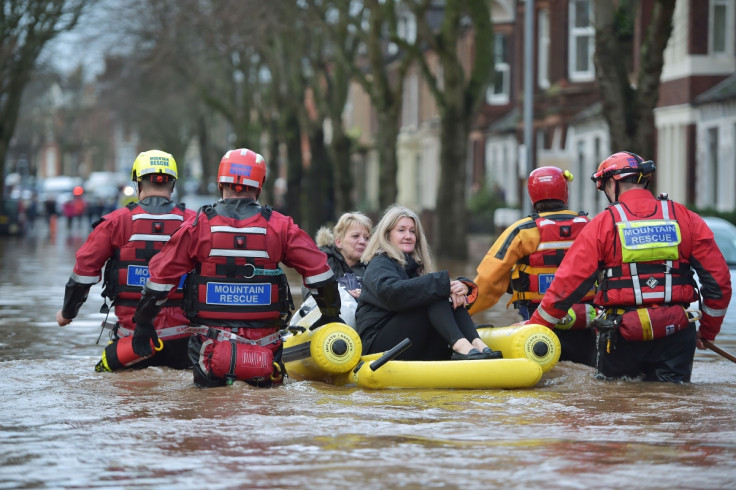 More than 1,000 people have been evacuated from their homes in Cumbria and the Scottish borders as Storm Desmond tore through northern England and parts of Scotland. Cumbria has been hit particularly badly, with 60,000 people left without power and more than 50 severe flood warnings still in place for the region.
Trains between England and Scotland have been suspended, while a number of roads have also been shut. As heavy rain continues to batter Scotland, northern England and northern Welsh regions, 130 flood warnings have been issued across Britain by the Environment Agency.
Rescue teams in Cumbria – where eight rescue centres have been opened – are using dinghies to evacuate residents stranded in their flooded homes. Prime Minister David Cameron has called off a trip to the Middle East and promised "any aid necessary" in the wake of the destruction.
"My thoughts are with all affected by Storm Desmond. Teams are working to ensure swift response and help for those who need it," Cameron wrote on Twitter.
Around 200 properties have been inundated with water so far, according to the Environment Agency, and military personnel have been drafted in to assist with the rescue efforts in Carlisle. The River Eden burst its banks in Appleby-in-Westmorland, and water levels have nearly topped flood defence barriers in Carlisle and Keswick.
The rain is making its way to the southeast of England while downpours are still anticipated in northwest England throughout Sunday, 6 December. The Environment Agency has said: "The focus for today is Carlisle," where people have been asked to remain vigilant.
"It's absolutely horrible watching the inevitable happen. Basically, the water rose so very quickly that you were just watching it progress towards the house," said Sophie Thornton, whose home is flooded. "There was nothing we could do. We're now looking at a street which is waist height in water. It's just absolutely horrendous," she told the BBC.
Tim Farron, Liberal Democrat leader and MP for the Cumbria constituency of Westmorland and Lonsdale said: "It is incredible weather, we've not seen anything like this. And you know, this is Cumbria, we are used to challenging weather. This is beyond anything even I can recall… so many roads are underwater."
The UK's Met Office has issued a yellow severe weather warning, for Monday, 6 December. The alert covers the north-west of England and south-west Scotland.