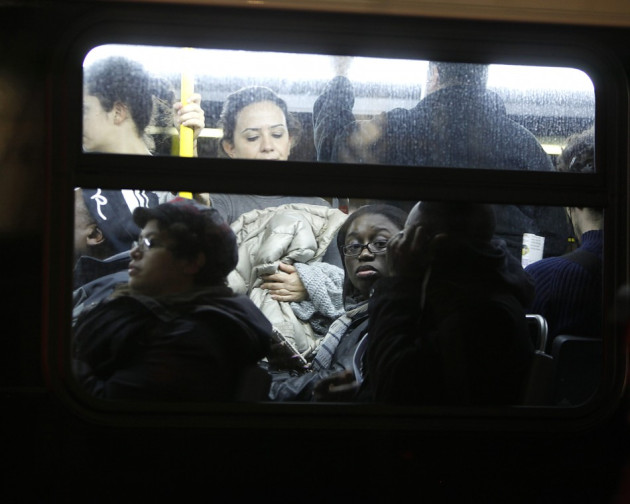 The number of people who have died during Superstorm Sandy has reached 90, while 12 states are battling huge power outages and fuel shortages.
The death toll has continued to rise steadily since Sandy reached America on Monday evening, and is likely to increase further once officials in New York begin house-by-house inspections.
Of the 90 people killed by Sandy, 38 are from New York - indicating the devastation the storm has wreaked on America's most populous city.
Meanwhile, it is thought that about 4.5 million people have been affected by the power and fuel problems which have blighted the region hit by the storm.
Some of the mass transit and bus services in New York are getting back on track, but fuel shortages have given rise to concerns about emergency services being hit.
The authorities have waived fares on public transport systems, in a bid to ease congestion on the roads. Currently, only those vehicles carrying three or more passengers are permitted to cross Manhattan.
Hundreds of vehicles have been queueing up at fuel stations, leading to heated arguments which have forced owners to seek help from the police. Many of the outlets in New York and New Jersey continue to remain shut.
"I've been pumping gas for 36 hours, I pumped 17,000 gallons," Abhishek Soni, the owner of an Exxon in Montclair, told the New York Times.
Disputes at Soni's outlet had become severe that he had to halt business for about 45 minutes.
"My nose, my mouth is bleeding from the fumes. The fighting just makes it worse".
Subways systems continue to remain shut and homes struggle without power in the lower Manhattan area, which was struck with waves as high as 14ft.
Power could be restored by the end of the week, but reports suggest that a local utility firm has said that the outages could last weeks for some.
New York Governor Andrew Cuomo has asked the National Guard to provide about 30 tractor trailers of supplies to residents and has told relief workers to give priority to the poor and elderly.
Obama back on campaign track
US President Barack Obama resumed his election campaigning in Colorado, Nevada and Wisconsin after a three day break due to the super-storm Sandy, for last five days of before the elections.
"Our fight goes on because we know this nation cannot succeed without a growing, thriving middle class and strong, sturdy ladders into the middle class," said the President.
"Our fight goes on because America has always done its best when everybody gets a fair shot, and everybody is doing their fair share".
Polls showed that Obama and rival Mitt Romney were in for a close contest in the three states, but Obama supporters claim that the president has the edge in early voting.