If you read Andrew Keen's new book The Internet Is Not The Answer you will be immediately suspicious of Stripe.
Keen argues that rather than democratising the global economy by giving everyone access to the World Wide Wide, the internet has in fact polarised the haves from the have-nots to a much greater degree than before the internet age, enriching a few middle-aged white men in Silicon Valley while leaving the rest of us scratch around for crumbs.
Buy 'The Internet Is Not The Answer' on Amazon
Stripe could therefore easily seem like the most evil company in the world as it powers a huge portion of the online e-commerce revolution Keen talks about, allowing people to quickly and easily set up shop online and selling to virtually anyone, anywhere in the world. The reality is somewhat different.
Levelling the playing field
James Allgrove, who heads up business development for Stripe in the UK, unsurprisingly doesn't believe his company or indeed the internet in general is the all-pervasive evil which Keen espouses but thinks that in the long term "technology levels out the playing field".
"We are still very early in that technological shift [to online commerce], and if you look at history with any technological shift there is always a disruptive phase at the beginning when it is uneven, but in time as that spreads that evens out a lot. We really see payments as one of the last big challenges to solve on the internet and really allow people wherever they are to be able to transact."
Stripe established its UK operation just over 18 months ago and according to Allgrove, the company has seen "really great traction" in that time. Stripe is one of the hottest tech startups in Silicon Valley at the moment, having received a total of $200m (£133m) in funding from well-known tech venture capital funds Sequoia Capital and Andreessen Horowitz as well as from PayPal founders Peter Thiel and Elon Musk.
Simplify and streamline
Founded in 2010 by Irish brothers Patrick and John Collison, Stripe's aim is to simplify and streamline online payments, removing the clunky, technical interfaces which characterised previous payment mechanisms and replace it with a stripped down and simplified system.
As well as helping power the ecommerce operations of high profile clients like Facebook and Twitter, and facilitating the new Apple Pay system, Stripe's real unique selling point is how easy it makes setting up your own business online.
Allgrove says that prior to Stripe there were really two ways of taking payments online. The legacy payments industry which say online businesses bolting together several different products (payments gateway, merchant accounts, etc) that might have given some more flexibility but was a major hassle to set up.
The other option was PayPal, which may have been easier to set up but you were "putting your users through PayPal's payment flow and you don't have any control over that".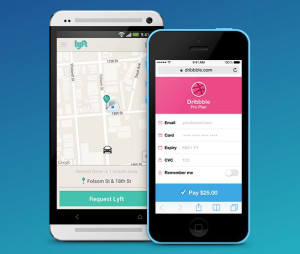 Flexibility and ease of use
Allgrove says that the main differentiator Stripe offers "is building a new type of commerce platform that will give the best of both of those models, the ease of set up and also the flexibility of what you can do."
That flexibility has led to not just online versions of high street stores, but a range of emerging business models, subscriptions, marketplaces such as Kickstarter, and people who want to trade more internationally from the start.
I tried out several of the UK businesses using Stripe to power their business online:
Pact Coffee - Based in London, this is like Netflix for Coffee. Paying a weekly subscription, you will get a different pack of ground coffee delivered to your door every week (or two weeks if you don't drink too much coffee). The website allows you customise the type of coffee you get by telling it how strong you like it and what you use to make the coffee.
Handy - A mixture between a marketplace and a subscription model, Handy helps you find tradespeople and cleaners to come to your house. You can set up a regular payment if you want a cleaner to come weekly and you can even interact with the person through the company's app.
Deliveroo - This is an upmarket version of Just Eat. Deliveroo works with restaurants (rather than specifically take-aways) to deliver food to your door. It offers a wide range of cuisines but in a limited area in central London.
Bloom & Wild - A flower delivery service, Bloom & Wild says it sees more people using its smartphone app than its website with the ease of use the highlight of this service.
What was consistent throughout using their different services was just how invisible Stripe's technology was - and that's the point.
Google-sized problem
Stripe is not just powering startups like Pact and Deliver, it is also powering bigger systems like Comic Relief's Red Nose Day and the Guardian's digital activities in the UK. "It really is for all sizes," Allgrove says, but admits the company does have a "very strong foothold in the startup space".
The current online experience is somewhat anachronistic Allgrove says, where you have a "very siloed system" of payments where people can only "really transact in specific pools".
This suggests that there is still a long way to go in online payments but solving the problems is not an insignificant hurdle to overcome.
"This is like a Google-size problem to solve, and in solving it we will unlock a lot of commerce that wouldn't have happened otherwise - whether that's new business models or people in different countries transacting," Allgrove says.
Is bitcoin the answer?
Looking to the future, Allgrove is very positive about Apple Pay, which he calls "an awesome innovation" - but considering Stripe is helping power that particular payment method this opinion is hardly surprising.
He adds that the majority of the Apple Pay-enabled apps in the App Store that are available in the US are powered by Stripe and the company is seeing "really great traction of that in our user base in the US".
Looking at the mobile payments market in general, Allgrove is just as positive: "We are generally very bullish on this idea of one-touch mobile payments".
Looking even further into the future Allgrove is still undecided about the possibility of bitcoin being the solution to the problems seen today. Allgrove says that Stripe adding the option to take payments in bitcoin is about giving customers the option of "future-proofing their payment stack" and says that a "few people are trying it" in the UK.
"It's a bit early to say if bitcoin is the answer," Allgrove concludes.