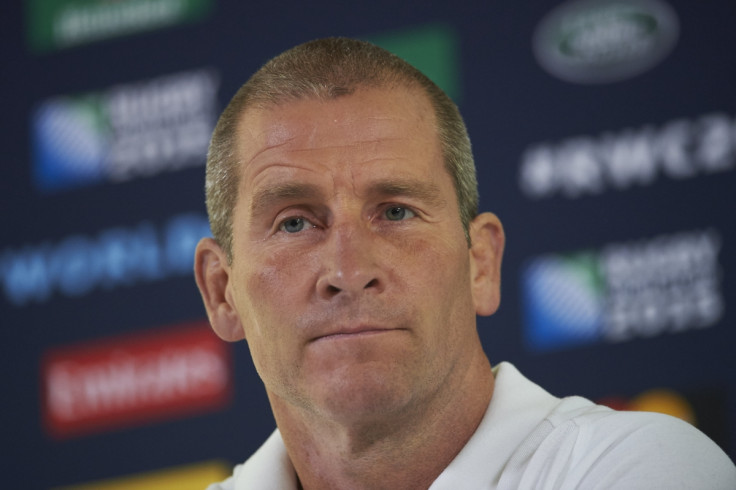 England coach Stuart Lancaster has received a vote of confidence over his future after the Rugby Football Union confirmed there will be "no knee-jerk reactions" to the pool stage exit from the Rugby World Cup. The 33-13 defeat to Australia saw Lancaster's side become the first host nation to crash out of the tournament before the knockout stage but RFU chief executive Ian Ritchie wants to reflect on the disappointing result.
"We need a period of calm reflection," the RFU chief said. "I don't think this is a moment for knee-jerk reactions. I think this is a moment for clear thinking and then we'll learn the lessons from what has happened and we'll take advantage of those and move on. That is what we have got to do and that is what we will do.
"We have a game next week against Uruguay and we owe it to the everybody to give it our best shot to finish it that way and I know the coaching team and the players will be focused upon. It is a hugely disappointing result and there is no shying away from that but we no need to move on."
Lancaster and his coach team including Andy Farrell, Mike Catt and Graeme Rowntree agreed a new six-year deal prior to the tournament but there are now major questions over his future. The England coach has though refuses to discuss his career prospects but admits he is considering his position.
"All things are being considered, but for me that is not for now," he said. "I sat in front of the management team at the hotel and said we've got a game to play on Saturday. I need to get the team ready to play Uruguay on Saturday and that's my priority.
"The accountability and responsibility lies with me. Family is a big thing, also what's right for England and what's right for the team. All that will come into the equation but 12 hours after the final whistle, that's not for now."