Student Tuition Fee Protesters Clash with Police in Parliament Square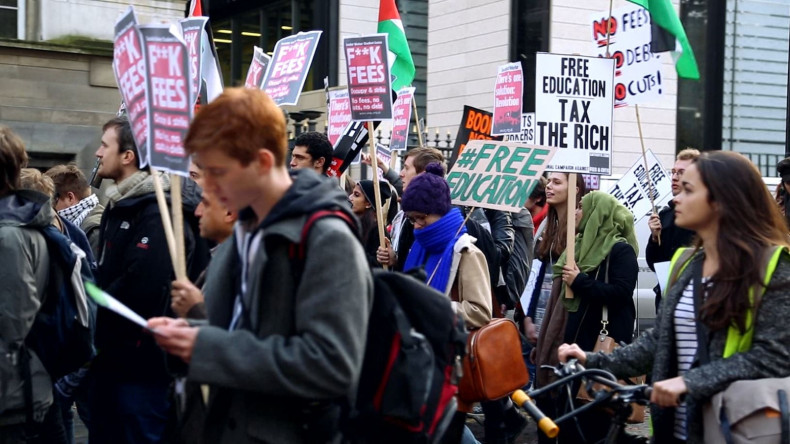 Demonstrators have clashed with police as thousands of student protesters marched on Parliament calling for an end to university tuition fees.
London's Metropolitan Police said a number of protesters climbed barriers onto the pavement around Parliament Square and challenged a small group of police officers.
"Various missiles were thrown at the officers and protesters pulled down protective fencing around the grass area in Parliament Square," a Met spokesperson said.
"A large group of protesters walked on to, and have occupied, the grass area. The officers withdrew from the area. Three officers suffered minor injuries. There have been no arrests at this stage."
The Free Education action was organised by the National Campaign Against Fees and Cuts (NCAFC) and the Student Assembly Against Austerity.
The groups want the government to rethink its policy of requiring students to pay fees of up to £9,000 ($14,109, €11,245) each year in England.
Organisers of the march, from the University of London to the Palace of Westminster, say the protest was the start of a "major wave of action" ahead of the 2015 General Election next May.
However, the National Union of Students (NUS), the UK's largest student union, did not endorse the demonstration – claiming that the protest was an "unacceptable level of risk" for its members.
The government said it recognised the right of the students to free speech but argued that the country's university system would be unsustainable without tuition fees.
"We recognise the right of all students to free speech," said a spokesperson for the Department for Business, Innovation and Skills. "However, the world-renowned calibre of the UK's higher education system would not be sustainable if tuition fees were removed.
"Our reforms were necessary to further strengthen the quality of our system and this summer the Organisation for Economic Co-operation and Development described the UK as one of the few countries that has developed a sustainable funding system for its universities."
IBTimes UK caught up with some of the protesters. Click to watch the video below.