Extreme cold weather has caused parts of the Niagara Falls to freeze on both the US and Canadian sides. Around the falls, the deep freeze that is gripping North America is as much seen as it is felt. Mist from the rushing waters has frozen instantly on everything it touches, coating trees, walkways, cliffs and overlooks in white. Visitors hardy enough to withstand the bone-chilling cold are treated to snapshots and selfies in a winter wonderland.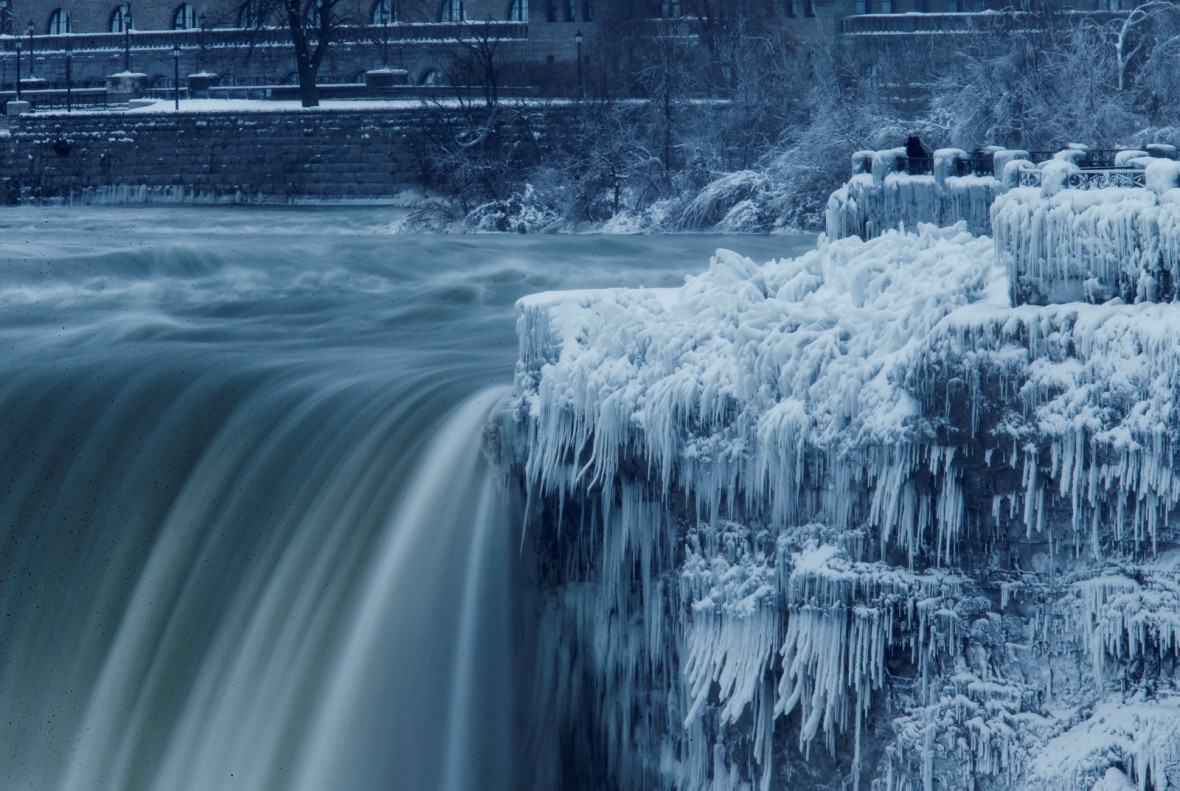 Despite temperatures as low as minus 14 degrees Fahrenheit (–26C), the three huge waterfalls that make up the natural attraction between the United States and Canada are largely unaffected. More than 3,000 tons of water continues to gush over the cliffs, churning up the frosty mist.
IBTimes UK presents photos of the partly frozen falls, before looking ahead to the "bomb cyclone" expected to hit the eastern seaboard today (4 January).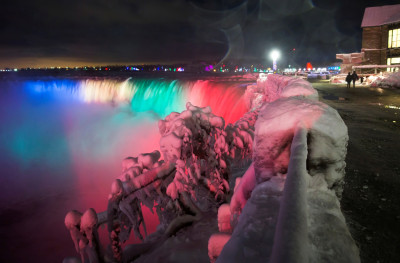 Temperatures are expected to plummet still further as a massive winter storm packing snow, ice and high winds, followed by possible record-breaking cold, moves up the Eastern Seaboard. Forecasters warned the storm could soon strengthen into a "bomb cyclone"as it rolls up the East Coast, bringing hurricane-force winds, coastal flooding and up to a foot of snow.
When a storm's barometric pressure drops by 24 millibars in 24 hours, it undergoes what forecasters call "bombogenesis", turning it into a a "bomb cyclone" and greatly strengthening it. This storm looks like it will intensify twice that rate, Bob Oravec, lead forecaster at the US National Weather Service's Weather Prediction Centre, told AP.
The effect is seen in the northeastern US every winter, but this storm will be particularly powerful, Judah Cohen, a visiting scientist at Massachusetts Institute of Technology. "This one is unique in how quickly the pressure is going to fall," Cohen told Reuters. "The pressures could rival a Category 1 or Category 2 hurricane."
US National Weather Service Meteorologist Dan Peterson said the storm will be followed by a wave of bracing cold. "We think there are going to be scattered records broken for low temperatures," Peterson told AP, adding that the weather service expects 28 major cities across New England, eastern New York and the mid-Atlantic states will have record low temperatures by dawn on Sunday (7 January).
At least 17 deaths have been blamed on dangerously cold temperatures that have gripped wide swathes of the US from Texas to New England.