Much of the US has been shivering through a freezing winter that is now set to become even colder.
Millions of residents on the US East Coast will be blasted by a triple-whammy of extreme weather conditions, as strong winds and heavy snowfall are followed by sub-zero air temperatures. Some northern states, such as Maine and Vermont, could see thermometers fall to as low as -25 Fahrenheit (-33C).
Forecast models show the storm will begin to develop as a pressure system moves over warm Gulf Stream waters on Florida's Atlantic coast. The developing storm will then travel north along the eastern seaboard on Thursday (4 January). Weather warnings have been issued in a number of states, ranging from Georgia to New York.
Meteorologists say the extreme cold front could develop into a so-called "weather bomb" if conditions deteriorate further. Extreme cyclogenesis, known by some as "bombogenesis" or a "bomb cyclone", is caused by a rapid decline in a storm's central air pressure. The US National Ocean Service defines the phenomenon as a drop of 24 millibars of pressure over a 24-hour period – a feat this storm will likely surpass.
This dropping pressure, usually resulting from the collision of warm and cold air, will significantly increase the intensity of the cyclone, bringing dangerous conditions along with it.
According to a Met Office spokesman, examples of this extreme cyclogenesis have been seen in the UK as recently as last year. Atlantic pressure systems such as Storm Doris and Storm Brian caused damage across Britain when they struck in 2017.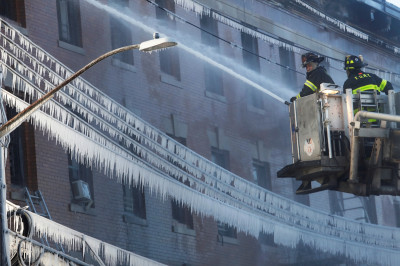 While heavy snowfall is expected in some areas, the accompanying record-breaking lows may result in widespread transport chaos and the closure of major airports.
"Our biggest concern is the potential for damaging wind gusts especially near the southeast New England coast," the Weather Service tweeted. "Power outage risk followed by arctic air Fri/Sat a big concern!"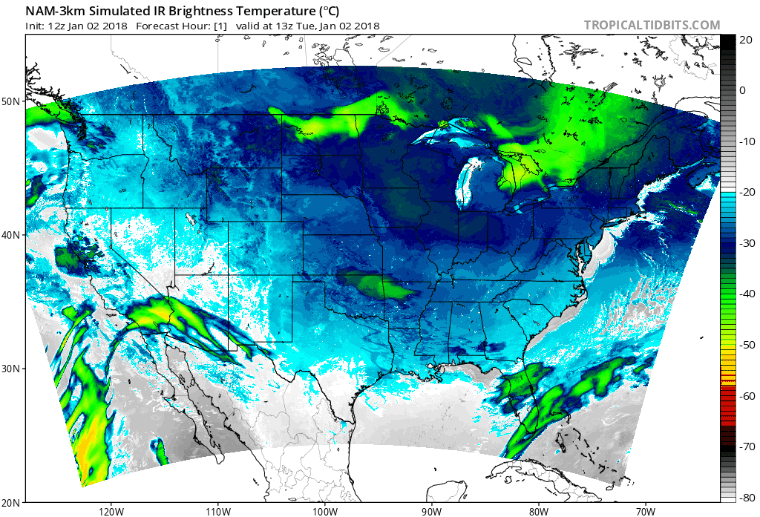 The extreme cold has already been felt in some regions for a number of weeks. Savannah in Georgia, which often sees temperatures of 16C in winter months, has seen temperatures drop to -1C. In New York, pictures showed how a team of firefighters struggled to contain a fire that broke out at an apartment building in the Bronx as their equipment froze.
Chicago recently celebrated its coldest New Year's Day ever as temperatures, factoring in windchill, dropped to as low as -37C. Niagara Falls, situated on the US-Canada border, has been frozen solid for a number of days, creating an unusual sight for tourists willing to venture out and brave the cold.