IBTimes UK brings you the latest photos of the massive winter storm barrelling into the northeastern US. The storm is the product of a rapid plunge in barometric pressure that some weather forecasters are referring to as bombogenesis or a "bomb cyclone", which brings fast, heavy snowfall and high winds.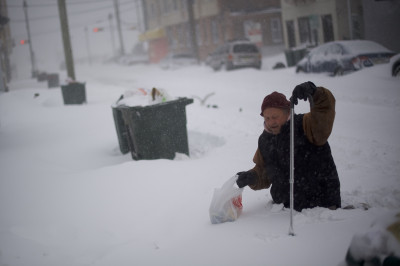 When a storm's barometric pressure drops by 24 millibars in 24 hours, it undergoes what forecasters call "bombogenesis", turning it into a a "bomb cyclone" and greatly strengthening it. This storm looks like it will intensify twice that rate, Bob Oravec, lead forecaster at the US National Weather Service's Weather Prediction Centre, told AP.
The effect is seen in the northeastern US every winter, but this storm will be particularly powerful, Judah Cohen, a visiting scientist at Massachusetts Institute of Technology. "This one is unique in how quickly the pressure is going to fall," Cohen told Reuters. "The pressures could rival a Category 1 or Category 2 hurricane."
US National Weather Service Meteorologist Dan Peterson said the storm will be followed by a wave of bracing cold. "We think there are going to be scattered records broken for low temperatures," Peterson told AP, adding that the weather service expects 28 major cities across New England, eastern New York and the mid-Atlantic states will have record low temperatures by dawn on Sunday (7 January).
At least 17 deaths have been blamed on dangerously cold temperatures that have gripped wide swathes of the US from Texas to New England.