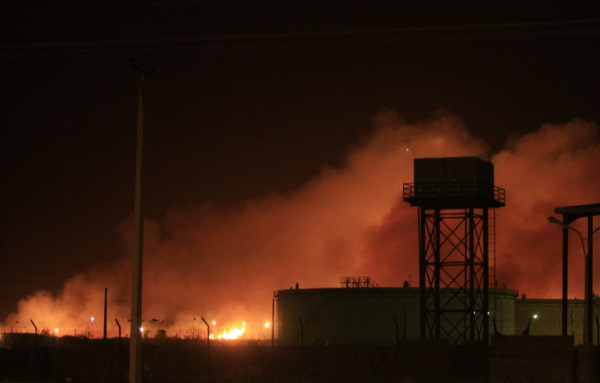 A Sudanese minister has accused Israel of bombing an arms factory in the capital Khartoum.
Information minister Ahmed Belal Osman told reporters that four military planes approached the Yarmouk military industrial complex and bombed the plant, causing a powerful explosion and sending ammunition flying through the air.
"We think Israel did the bombing," Osman said. "We reserve the right to react at a place and time we choose."
Thick black smoke filled the sky in the area and nearby buildings were reportedly damaged, with roofs blown off and windows shattered.
Residents reported spotting an aircraft fleeing over the factory before it exploded.
A reporter from AFP witnessed seeing "two or three fires flaring across a wide area, with heavy smoke and intermittent flashes of white light bursting above the facility".
"I heard a sound like a plane in the sky, but I didn't see any light from a plane," a resident said. "Then I heard two explosions and fire erupted in the compound."
Khartoum governor Abdul-Rahman Khedr told Suna news agency there were no casualties. Preliminary investigations suggested that the explosion happened in a store room.
In 2009, dozens of people were killed when aircraft attacked a convoy carrying weapons in northeastern Sudan. Israel was blamed as the shipment was reportedly heading for Palestinian militants in the Gaza Strip.